First it was rain jackets, then a hydration system, then came gloves, device covers, baselayers, and an apparel line.
Now southeast Portland-based Showers Pass is rolling into the bag market with the release of the Cloudcover line.
The line includes three models: the Utility Backpack ($214), Transit Backpack ($264) and Refuge Duffel ($189). As you'd expect the bags keep water out thanks to a special fabric coating, fully welded seams and waterproof zippers. Another cool feature are the integrated and removable LED lights that slip into the sides and back of the bags to help you be seen by other road users.
Here are a few more images of the bags followed by the company's press release: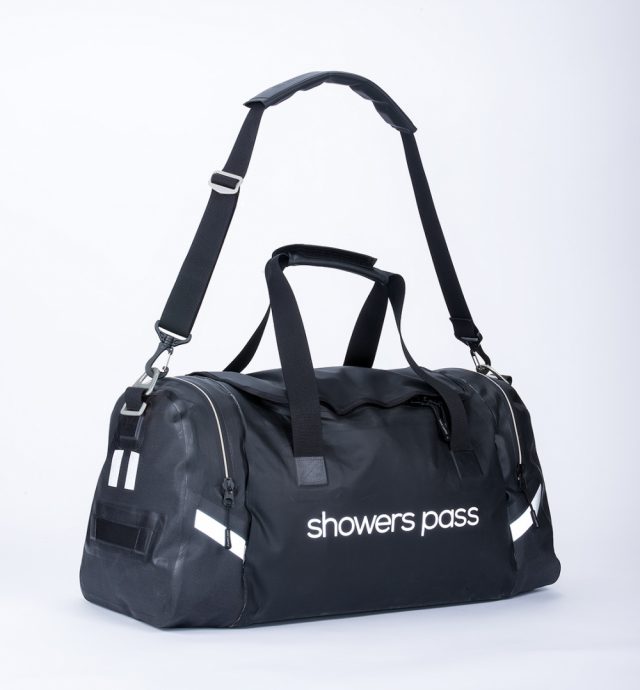 Showers Pass announces new line of Cloudcover Waterproof Bags designed to withstand the elements and provide unique functionality for year round cyclists and outdoor enthusiasts. The Cloudcover line includes the Utility Backpack, the Transit Backpack and the Refuge Duffel, all made with durable waterproof construction, self-supporting design, and featuring integrated/removable red LED Beacon Lights for safety. The bags are made with 840 denier ballistic strength Nylon with a waterproof TPU coating, fully welded seams, and waterproof zippers for durability and exceptional weather protection. All three styles of bags are equipped with reflective trims for improved night visibility and your choice of green, gold or silver colored anodized aluminum hardware to provide a lightweight yet durable alternative to plastic with an added pop of color.

"When we branch out into new categories we aim to solve problems for the end user. On one side of the industry there are many functional non-waterproof backpacks and duffel bags, while on the other side there are many great roll-top waterproof bags that don't provide much organizational utility" says Kyle Ranson, Showers Pass president. "We designed a line of bags that combined functional design for better organization with waterproof construction, and with many innovative features."

Providing superior comfort both on and off the bike, the Transit and Utility Backpacks feature ergonomic padded shoulder straps that are kept in place with a new low profile sternum strap clipping mechanism. 3-D mesh spacer panels on the back provide cushion and airflow. The padded waist strap features two zippered pockets, and can be worn around the waist, buckled to the front of the bag or removed completely and worn alone as a hip pack. The Utility and Transit Packs also feature suspended laptop sleeves that keep computers or tablets secure and off the ground during sudden drops.

The Transit and Utility Backpacks stand out from the crowd with 4 points of integrated removable LED lighting. Each bag also includes four red LED Beacon lights which snap into metal grommets. The small, silicone-clad LED's run on watch batteries, and offer a solid mode, as well as 2 flashing modes. With a 200 hour run time, these lights are programmed with an automatic shut-off feature to conserve battery life (auto shut-off after an hour on flashing mode).

The Transit Backpack is designed for urban commuters seeking a spacious, and comfortable pack that will keep their gear protected and well organized. Its self-supporting and lightweight design makes packing and unpacking a breeze. Weighing only 4lbs with a 42 Liter capacity, this bag is the ultimate travel companion.

The Utility Backpack is designed for the outdoor enthusiast who seeks extra room for essentials and plenty of space for hydration. Equipped with a separate hydration bladder pocket, and nylon webbing on the front, this rugged bag provides ample space for clip on accessories. At just 3.4 lbs with a 26.8 Liter capacity, the Utility Backpack provides space without the added weight.

The Refuge Duffel Bag is an essential all-in-one bag for athletes and outdoor adventurers. Easily separate clean clothes from dirty items with 3 separate waterproof compartments. This duffel bag also comes with a fold-out waterproof changing mat, providing a dry place to stand during kit changes. Weighing only 2.81 lbs with a 51.3 Liter capacity, this bag lets you do it all.
Learn more at ShowersPass.com.
Check the Industry Ticker archives for more news about local bike products and businesses.

— Jonathan Maus, (503) 706-8804 – jonathan@bikeportland.org
Our work is supported by subscribers. Please become one today.