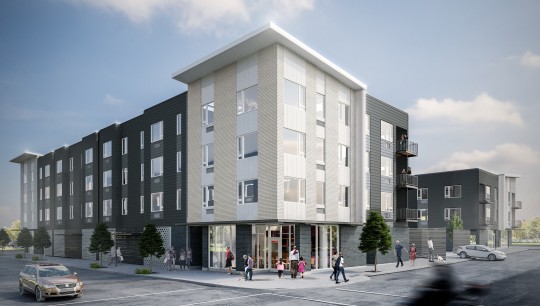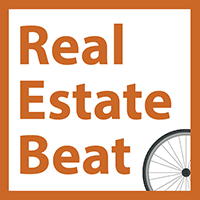 Beaverton is looking to get a slice of Portland's walkable-bikeable apartment boom.
Tomorrow morning, developers and city officials will break ground at the vacant lot at Southwest First Street and Angel Avenue in Beaverton's streetcar-era Old Town neighborhood, officially kicking off construction of The Signal.
The four-story building will be about two blocks from Beaverton High School, half a mile from the Beaverton Transit Center and 2.5 miles from Nike headquarters.
Apartments will include studios, one-bedrooms, two-bedrooms and nine larger live-work units on the ground floor, with an average size of 750 square feet. They're currently expected to rent for about $1,050 to just under $2,000 a month.
"We're close to transit. We're easily bikeable to Nike and other employers in the region… there's a lot of life over there that we hope will keep growing."
— Kali Bader, Rembold Companies
One or more of the 65 on-site car parking stalls will be optionally available for an additional fee.
And in news that would be fairly routine for a newly built Portland building but is a first for its western neighbor, The Signal will include extensive bike parking, an on-site bike repair stand and a bike wash.
"I definitely feel like Beaverton's been a little bit of a sleepy sister to Portland, and even to Hillsboro in a way," said Kali Bader, vice president of developer Rembold Companies. Bader said she lives just outside Beaverton city limits and her children attend Beaverton schools. "it has proximity to Portland and proximity to Lake Oswego and Hillsboro makes it a really great location in the region. … We just think it's a somewhat overlooked city and it shouldn't be."
The $20 million project is happening on a city-owned site and is getting a $350,000 subsidy from Metro's transit-oriented development program. (Other than that, it's privately funded.) The City of Beaverton, looking to jump-start development of the precious few gridded streets in its city center, put word around in 2013 that it was looking for a developer for a project like this.
"We really like the site because it's kind of uniquely urban but in a suburban setting," Bader said. "We're close to transit. We're easily bikeable to Nike and other employers in the region. … Especially with Old Town area being so walkable and the library and the park and the farmers market, there's a lot of life over there that we hope will keep growing."
Hillsboro, Beaverton and the rest of Washington County are facing another phase in their perennial debate over whether the area should expand its urban growth boundary or find ways to fit more density in their existing urban areas.
Bader said she takes no position on those questions, but thinks "Both cities are doing a decent job of attracting that type of development. It is hard to make the zoning work with these infill projects. … Obviously not all the land there is zoned to do high-rise housing."
That said, there are plans in the works for an arts, culture, hotel, housing and retail development nearby. Rembold is a partner in that project too, along with Portland-based infill specialist Gerding Edlen.
"I'm pretty confident there will be additional development in the Old Town area over time; it's already gridded, there are blocks," Bader said. "There's just not a lot of that out there."
— The Real Estate Beat is a regular column. You can sign up to get an email of Real Estate Beat posts (and nothing else) here, or read past installments here.