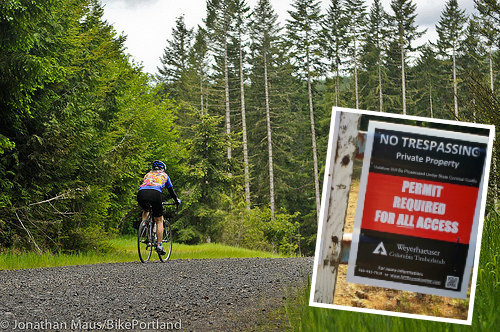 Several weeks ago a group of bicycle riders ran into a security guard while riding dirt roads outside of Vernonia. The incident shows that Weyerhaeuser Columbia Timberlands is actively enforcing the new permit program they launched back in July. It has also set off an effort by Columbia County Parks to create new signage that clarifies which roads the public is still free to use without a permit.

"The situation is a bit chaotic given that there is a co-mingling of public right-of-ways with private right-of-ways and these gravel roadways all look pretty much the same."
— Glen Crinklaw, Columbia County Parks
On October 3rd, Dan Morgan and friends were riding tandems and had just set out on the Burn Road Loop from the Vernonia side. We shared a ride report and photos from that loop last spring after being guided through it by the head of Columbia County Parks (and co-owner of the nearby Coastal Mountain Sporthaus) Glen Crinklaw.
Morgan's group was stopped by Fred Oviatt, a security contractor who works for Weyerhaeuser. In an email about the incident, Morgan said Oviatt was very accommodating and helped them map out a fun route to return to their starting point. Morgan, a veteran gravel road rider who happens to be one of the region's foremost experts on gravel road routes, was invited to meet with Oviatt to learn more about which roads are owned by Weyerhaeuser and which are still open to the public.
After hearing about Morgan's experience, Travel Oregon removed the Burn Road Loop from their Ride Oregon Ride website.
Oviatt was enforcing a new permit plan that went into effect on July 1st. As we reported at the time, the plan impacts numerous gravel roads between Scappoose and Vernonia — roads that have become increasingly popular for cycling on in recent years.
In an attempt to more closely control who is on their land, Weyerhaeuser made 100 non-motorized access permits available. They quickly sold out (mostly to hunters). To our knowledge, Morgan's group is the first to be approached and turned back for not having a permit.
One of the issues at play here is that these areas have been commercially logged for decades. As a result dirt roads criss-cross in every direction and there's often no signage at all. Adding to the confusion is that different logging companies have different ways of managing their lands.
We followed up with Glen Crinklaw to learn more about what's going on out there.
Glen Crinklaw on the Burn Road loop with a clear-cut and the Coast Range in the background.
With Weyerhaeuser clearly serious about enforcing their new access policy, Crinklaw says Columbia County needs to do a better job clarifying where the public can still ride without a permit:
"We have some work to do in establishing where the public right-of-ways travel out through the thousands of acres of private timberland. The situation is a bit chaotic given that there is a co-mingling of public right-of-ways with private right-of-ways and these gravel roadways all look pretty much the same."
Crinklaw said his next step will be to work with the county's surveyor and install new signage. Crinklaw is also talking with Weyerhaeuser in hopes of getting a bulk quantity of annual access permits he can issue as day-use passes.
A Weyerhaeuser rep told us back in July that their existing permit policy will run through December 31st of this year. At that time they'll re-assess things and determine how best to move forward. They're not expected to scale back the program. If anything, they might expand the permits and make them required year-round.
Crinklaw has a lot of interest in this issue. He's not only director of Columbia County Parks, he's also the owner of a lodge that caters to bike riders and he loves riding the roads himself.
"The Weyerhaeuser access policy change is a bucket of cold water on recreational opportunities in Columbia County," he said, "But my hope is that I will be able to salvage some of the gravel road riding potential that is out here."
— Jonathan Maus
jonathan@bikeportland.org
(503) 706-8804
@BikePortland