An estimated 40,000 people crossed Tilikum Crossing Sunday on foot, bike, skateboard, scooter or wheelchair.
(Photos: M.Andersen/BikePortland)
With walkers and in strollers, on hopalongs and (in the case of quite a few happily panting dogs) on leashes, Portlanders packed a series of previews Sunday of Tilikum Crossing, the first bridge in the United States to carry buses, bikes, trains, streetcars and people walking but no private cars.
The crossings began with an early-morning VIP ride and continued with the Providence Bridge Pedal bike ride, then an open crossing for people with disabilities and finally by the three-hour "People's Preview" for anyone and everyone.
TriMet spokeswoman Mary Fetsch, helping direct traffic at the west landing, was one of several TriMet officials present to marvel at the throngs who showed up. At about 3 p.m., with more than an hour left to go, she estimated that more than 20,000 people had crossed.
By mid-evening after the event, she'd upped her estimate to "40,000 to 50,000."
"Where are they all coming from?" deputy project director Dave Unsworth asked happily about an hour later, as people continued to stream across the river. He was straddling a bicycle on the west landing and directing people to avoid getting their wheels stuck between the MAX tracks. "Are they arriving in busloads on the other side?"
Most people crossed on foot, but a constant stream of people were also coming through on bikes. Everyone kept to their assigned sides of the bridge quite well, thanks to the stripe down the middle of the bridge and only a little prompting from a few orange-shirted TriMet volunteers.
Though I'd personally walked across the bridge once before, the experience of doing it on a bike was surprisingly different — in a great way. It's a fine trip on foot with good views of the city and (especially) the river. But like the other Willamette Bridges, it's just a long way to walk in the sun.
But on a bicycle, Tilikum really feels like a magic carpet. It's so quiet, so low-stress, so open to the air and so physically beautiful that it's clearly more pleasant to ride across than anything else except the Steel Bridge's lower deck. Even when MAX, bus and streetcar will be thumping past on the center lanes, the thick separation between the bikeways and pillars will keep them from causing any stress at all.
There's quite a bit of arc to the bridge, and people paused naturally a bit at the peak of it to admire the view. Tilikum is definitely further from the action of the city at the moment, thanks to the big undeveloped lots on both its landings, so it's not as urban a bridge as, say, the Broadway. But it's a new way to see the central city and an excellent look at the river and its banks.
This busker, stationed at one of the widened platform areas near the pillars, didn't seem to be bringing in much revenue, unfortunately. If Tilikum someday gets regular buskers on its platforms, we'll definitely know it's working.
The downward cruise was steep enough to be fun, not steep enough to feel dangerous.
At the west landing, westbound bike traffic is now channeled into a fenced-off, curb-separated, green-painted path that attempts to remove any temptation to cut south along the sidewalk toward the South Waterfront and Aerial Tram. This has its good and bad points. It's certainly going to prompt more people to cross Moody the way they're supposed to. Unfortunately, the light crossing Moody is extremely long for bikes and the cycle is very brief. It'll be interesting to see how car volume on Moody compares to bike traffic coming from Tilikum; hopefully the city will be willing to keep changing the amount of green time at this light once the bridge opens.
Also, as of last week the city, TriMet and OHSU have agreed on a major new redesign of Southwest Moody's sidewalk-level bike lane. The new design adds green and switches the pedestrian space to the west side of the path throughout, eliminating a so-called "weave" and putting a row of street trees between people biking and walking. In general this felt like an improvement over the old design, and seems likely to reduce the number of biking-walking conflicts on Moody. There were also some issues, though. Look for another post soon that'll explore some of them, and if you've ridden the street, feel free to add your own observations about this new setup in the comments.
A few people came with props or costumes. This man had a dog in his cargo box and a bubble machine behind his saddle, so he left a trail of merriment wherever he went.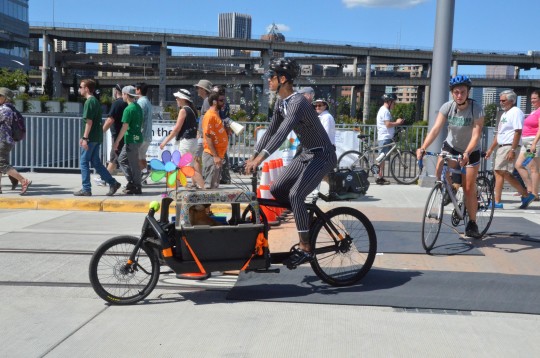 Lots of families had brought their children to see the bridge. Hopefully they'll remember the day, back in 2015, when they were among the first few thousand folks to enjoy it.