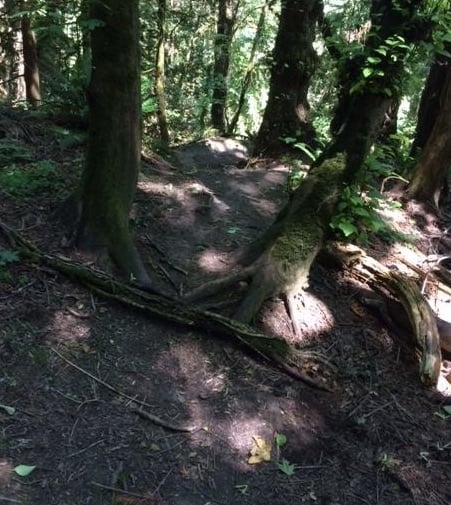 (Photos by Mark Molchan)
Uh oh. Just noticed this message posted to the email list of the Oregon Bicycle Racing Association:

Someone has been placing sticks and logs on the River View trails in an attempt to stop or hurt mountain bikers. They are around blind corners and after drops. I picked up a bunch last week and they are back again. Email if you see Amanda Fritz or Nick Fish on the trail with a handful of logs while wearing a "I hate mountain bikers" tee shirt.
And here's another another report from Mark Molchan:
HEADS UP! Someone is placing obstacles on trails. Most are no big deal, but I had to clear away 4 sections of branches/logs. Whoever placed these by doing so has confirmed that they are aware of cyclists still using the trails, and have knowingly taken action that could harm someone. At least half of the obstacles were placed at/on/near/around technical, steep, runout sections and on blind turns. Please be careful and scout ahead.
And more photos from Molchan: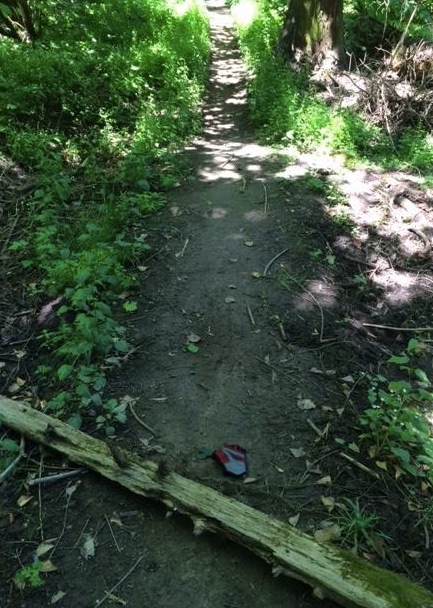 To refresh your memory, the trails at River View Natural Area were purchased by the city of Portland in 2012. Prior to that they were owned by the River View Cemetery and people have been riding on them, illegally, for several decades. While technically trespassing, River View never enforced a ban. After the city purchased the land, they permitted bicycling until an abrupt decision this past March put a temporary "pause" on bicycle use until a more formal decision can be made.
It's unclear who would sabotage trails at River View. Throughout our coverage of this issue there hasn't been an organized and vocal opposition to mountain biking on the trails (that's not to say it doesn't exist, and as commenters point out below, some neighborhood residents and other groups appear to be organizing against bike access). There are a few local residents who have spoken up at meetings — mostly it seemed out of fears of people parking on "their" streets more than use of the trails. Unlike Forest Park, where there's a long legacy of hiking and world-class trails like Wildwood, the River View trails are mostly unauthorized and relatively underused and therefore biker/hiker conflicts have not been an issue in the recent debate.
Sabotage is nothing new in the trail riding world and Portland is not immune. Back in 2014, a bomb squad was forced to respond when a trip wire device was found strung between two trees in Forest Park.
If anyone else has seen this and/or has photos or other information, please drop me a line. I've requested to have a Portland Parks and Recreation ranger stop by and check this out and will report back if I learn anything else.
UPDATE: Portland Parks & Recreation has sent rangers to check out the situation. I will report back if/when they find anything. Also, I just discovered an email written to us on May 21st that offers more details about the alleged trail sabotage:
I am writing to inform you of some disturbing observations I have made regarding RVNA. Though I am sure your readership are all good, law abiding citizens, I feel I should report these findings in the unlikely circumstance that someone who reads Bike Portland may be riding these wonderful trails. Yesterday I was on the main descent (since whether I was on a bike or not is irrelevant to the observations, I will not mention my mode of enjoyment) and I discovered large sticks, branches and logs strategically placed across the trail. This was observed the whole length of the trail adding up to more than 20 objects. These objects where placed across the trail after blind turns, many anchored by trees in a manner that made them fixed. Some of the logs were as large as 12 inches in diameter. I recognized this as trail sabotage.

I have seen this on legal trails when I lived in California. Trail sabotage is criminal regardless of trail legality. People can suffer life threaten ing injuries from such sabotage, not to mention that many of the objects where dragged from off trail, sometimes for more than 10ft before their placement. One such object was a nurse log with actual epiphytes growing on it. Regardless of how you feel about the bike ban, about trail poaching and about the climate around these subjects, this is an unacceptable action. Whether or not a malicious outcome was intended, the mechanism was present. This, to me, is a scary escalation of events. It would be wonderful if you could mention this to your readers so nobody gets hurt. Thanks for all your excellent coverage on this important subject.