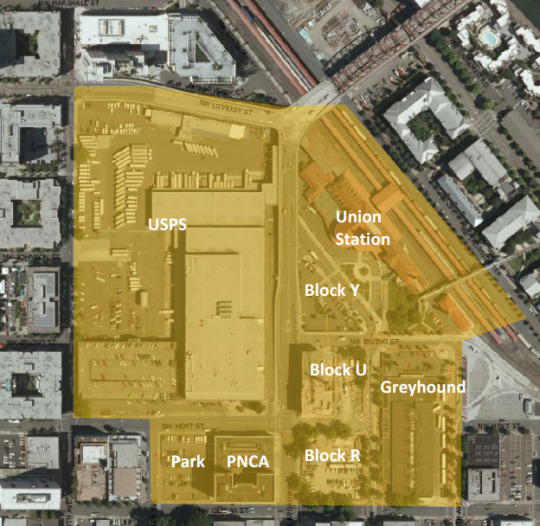 A Portland Development Commission map of the "Broadway Corridor." The PDC is meeting this afternoon to re-up their negotiation to buy the post office site at the base of the Broadway Bridge and fast-track a planning process for the area.
(Image:
PDC
)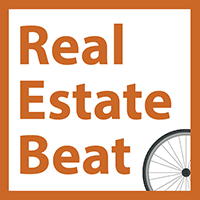 If Portland's main post office signs a deal to relocate, a huge payoff for biking could be hiding between the lines.
As the Portland Development Commission meets this afternoon to consider putting up $500,000 to reboot negotiations over moving the operation from the Pearl District to a new hub near Portland International Airport, advocates and planners are watching with great interest.
Redevelopment of the eight-city-block post office site could create the space and funding for a new built-from-scratch bikeway from the Broadway Bridge straight down into the Park Blocks, across Burnside past Director Park, and into the city's biggest cultural district and Portland State University.
It'd be a key component of the Green Loop, a city concept for a biking-walking path designed as a signature urban amenity to match Portland's iconic waterfront paths and transit mall, circling the central city on both sides of the Willamette River and linking the Broadway Bridge to the new Tilikum Crossing.
A concept of a biking-walking Green Loop on the Park Blocks.
(Image: Portland Bureau of Planning and Sustainability)
"I'm excited by the potential of the post office site happening in the not too distant future now," said Mark Raggett, a senior planner with the city's Bureau of Planning and Sustainability who works on the Green Loop, on Wednesday.
The Oregonian reported last week that the Portland Development Commission "will consider entering exclusive negotiations to acquire the site at 715 N.W. Hoyt St. … and it will put down $500,000 to show it's serious."
A deal to redevelop the post office with a city purchase and resale worth tens of millions of dollars has gone on for years, and most recently fell apart a year ago. But with a major development boom underway in the Pearl area, the perceived payoff of converting the site to denser employment and/or residential space seems stronger than ever.
Raggett said such a deal would open up several options for improving the westbound landings of the Broadway Bridge or adding a new one flying through the middle of the new development towards the Park Blocks.
"There's quite a bit of grade difference in there to make up," Raggett said. "We don't know exactly how that would work."
The potential for a continuous bikeway down the Park Blocks has been discussed for years. Two years ago, after we reported on the emergence of the Green Loop concept, local advocate Sean Pliska created a compelling and detailed picture of the potential for making Park Avenue the main north-south bikeway through downtown. As he noted, it'd require some traffic rearrangement and signal work around Burnside, but the route is otherwise flat, low-traffic and a relatively blank canvas for investments such as a traffic-separated bikeway similar to the successful Indianapolis Cultural Trail.
"We've done really well with the commuter system," Raggett said, referring to Portland's existing biking network. "The Green Loop proposes adding a system that appeals to a broader demographic."
Bicycle Transportation Director Rob Sadowsky cautioned Wednesday that the Green Loop as planned shouldn't be seen as a substitute for other protected bike lanes.
"As a multi-use trail, as a meandering recreational experience, sounds fantastic — sign a lot of people up," Sadowsky said. "It's not a replacement for adequate protected bike lanes downtown for commuting. … They're looking at designing it as a 5-6 mile per hour route. So that's walking speed. It'll be more like trying to experience a bike ride on the Eastbank Esplanade in the summer."
A project like the Green Loop would cost tens of millions and require years of planning. Though development charges on new buildings in the central city could pay for parts of the so-called "linear park," Raggett said "it would definitely require some public funds. we don't know exactly what those would be from."
He conceded that it'd be a challenge to justify public investment in the central city, even for a relatively low-cost project compared to amenities like the recently reconstructed Transit Mall. Then again, he said, that might not be necessary.
"We're beginning to hear that there might be interest from private philanthropy in this kind of project," Raggett said.
Shawn Uhlman, a spokesman for the Portland Development Commission, said Wednesday that the Green Loop is "sort of anticipated either going around or through the post office site" and that the PDC's interest in acquiring the post office was informed by the city's West Quadrant Plan, which introduced the Green Loop concept.
Uhlman said the PDC is currently recruiting members of the stakeholder advisory committee for the Broadway Corridor Framework Plan, a planning process that would envision potential for the Post Office site and other nearby blocks, including the downtown Greyhound station and Union Station. That process is due to wrap up by October 2015, a notably rapid timeline. He said interested volunteers should email Sarah Harpole: harpoles@pdc.us.
Thanks to our friend Iain MacKenzie of development news site NextPortland.com for the tip.
— The Real Estate Beat is a regular column. You can sign up to get an email of Real Estate Beat posts (and nothing else) here, or read past installments here. This sponsorship has opened up and we're looking for our next partner. If interested, please call Jonathan at (503) 706-8804.