Portland's local bike businesses aren't immune to the Black Friday phenomenon.
If you plan to start your holiday shopping early, or if you simply want to score some good deals for yourself, we've put together a Bike Black Friday shopping guide to point you in the direction of the best deals and discounts.
Scroll down for all the details on sales that start tomorrow (11/28) at River City Bicycles, Blaq Paks, Showers Pass, Clever Cycles, Joe Bike, and North St Bags…



River City Bicycles (706 SE Martin Luther King Jr. Blvd)/River City Bicycles Outlet (534 SE Belmont)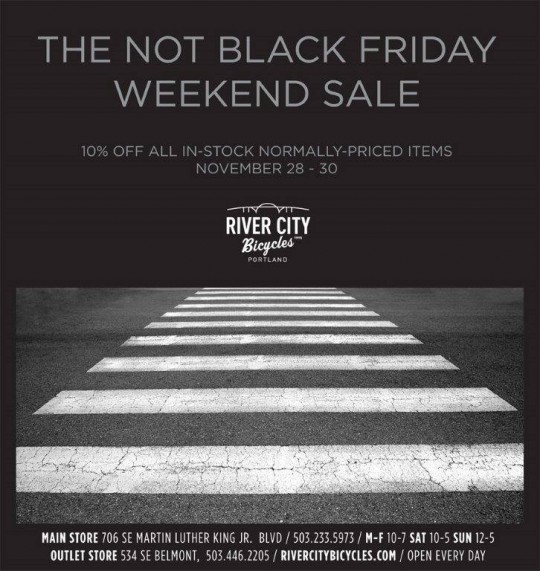 Sometimes "everybody's doing it" is a good thing! We thought we'd join the Black Friday fun this year, so on November 28, 29 and 30 we're taking 10% off all in-stock, normally-priced items.

There are also plenty of bikes and accessories at steeper discounts. We will include the extra discount on some special sale items, including Lemond bikes, Giant Propel and Envie bikes, and selected carbon wheelsets. You could get a steal on some new wheels for the road-rider in your life!

The River City Bicycles Outlet is included in the sale, so you'll find some especially good deals there.
More info here (FB).
Blaq Paks (2505 SE 11th Ave)
Showers Pass (online at ShowersPass.com)
Sale runs Nov. 27th through Dec. 2nd!

Free shipping on US orders over $80 AND Free Gift with purchase!
Spend between $160 – $249.99 and get a Free Portland Cap, a $40 value.
Spend between $250 – $399.99 and get a Free Cloudcover iPad case, a $49.99 value.
Spend $400 or more and get a Free Veleau 42 Hydration system, an $80 value.
Clever Cycles (900 SE Hawthorne Blvd.)
If you write a haiku on a theme of autumnal/wintry Portland bikey love, put it on the social media of your choice tagging us, and then come tell us about it, we will let you take a scratch card giving you 10-40% off everything, capped at $1000 off!
…
This Friday, we'll be opening as normal, at 11am. There will be a sign-in sheet available inside for customers who exceed available staff. If you wish to arrive early to ensure you are helped first, you are welcome to do so, but we will not be opening the doors until 11am.
Clever is also selling their rental fleet of Bromptons and cargo bikes at big discounts. And Clever employees are also selling their bikes. It'll be a big bonanza of a sale!
Joe Bike (2039 SE Cesar Chavez (39th))
Friday through Monday you should come in and start knocking 10% off the regular price of everything, with deeper discounts up to 50% off on select items we really want you to have.

ll bikes are 10% off regular price, including new models from Raleigh, plus Spot, Norco, Salsa, Surly and even a Van Dessel WTF complete bike.

All shoes are 50% off! These are goodlooking street shoes from DZR and Chrome, and all of them are SPD and Crank Bros compatible. No returns on shoes, so walk around the store for awhile in them and don't get lost.

Portland-made leather accessories from Walnut Studiolos are fabulous gifts, and all their stuff is 10% off. Classy and durable U-lock holsters, barrel bags, grips, mudflaps, etc.
If we missed anything, feel free to promote it in the comments…