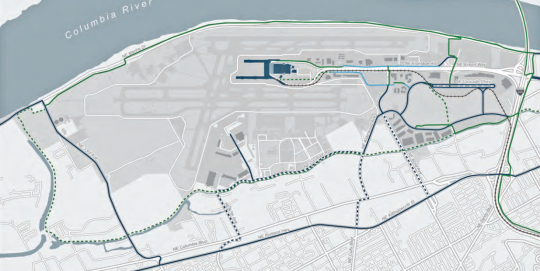 A map of existing (solid lines) and planned (dotted lines) bike access to Portland's airport. Green lines are multi-use paths; blue are on-street lanes.
(Click to enlarge)
Portland International Airport's new bike-pedestrian plan is probably thicker than the average city's.
Fifteen years after a rising bike-commute rate among airport workers led PDX to begin a strategic focus on its biking and walking connections, links to the airport keep getting better. Now, the airport is preparing to double outdoor bike parking, and, in the longer term, help the City of Portland pay for a multi-use path looping the entire airport plus three bike lanes that'll greatly improve airport access from the city.
The publicly owned airport has been on a tear recently. Travel + Leisure reader surveys named it the best in the country in 2013 and 2014. Though it's the smallest of the country's 30 "large-hub" airports, it ranks third in that group (after Chicago-Midway, Charlotte and Miami) for growth in passenger boardings since 2010.
Last year, PDX got top marks nationally in a survey of airport bike access, beating out Boston, Oakland, San Francisco, Los Angeles, Minneapolis and Seattle in part because it was the only one that prepares a bike plan.
Portland Airport is owned by the Port of Portland — ironically, a frequent political foe of biking advocates because of its leaders' belief that road capacity is essential to local freight access.
But the Port's investments in airport access, presumably motivated in part by a desire to minimize the risk of lawsuits, have been genuine and substantial. For example, here's a newly constructed crossing of Airport Way at 82nd Avenue, one of many capital projects completed since the airport's first bike plan, in 2003:
Here's the off-road path alongside the terminal access road:
Here's its map of existing and planned terminal bike access. Notice the new multi-use path it wants to build leading directly to the MAX line terminus and main passenger entrance (a dashed green line):
Here's its plan for a new bike parking area at that main (south) entrance and the less-used (north) entrance. Staple racks will replace less efficient wave racks and bring outdoor bike parking at the airport to 100 spaces:
In an email last week, airport planner Jason Gately also mentioned better support for bike-commuting airport workers:
We want to explore better coordination among airport employees regarding bike commuting. We have some 12,000 employees at PDX and there may be some opportunities to better coordinate information, offer incentives, perhaps have a locker room available for all employees who commute by bike, etc.
If the airport and city can find the money for a new multi-use path south of the airport's runways (see the map at the top of this post) it'd become not only a great place for recreational rides (especially for airplane fans) but a pretty convenient and direct link to the city's bike network, by way of new bike lanes planned on 47th Avenue, Alderwood Road and 82nd Avenue.
Also, Columbia Way's intersections with Cully and Alderwood are soon due for signalization, a big boon for people crossing the major truck route.
Though public investments in these routes should of course be weighed against other facilities in the region, the fact that the airport is pushing for them should be a huge point of pride for the Port, the region and for the airport employees who got this ball rolling in the 1990s.
Because auto parking is a profit center for many airports, few bother to invest much in alternatives. But of course that's actually a terrible deal for the airport's users, who should get to decide whether or not they want to pay for parking.
The fact that Portland's airport is making that choice possible is one more reason things are different here.