The new green-striped bike lane in front of the new bike box at 52nd and Division creates a more visible crossing.
(Photos: M.Andersen/BikePortland)
After more than a year of delay and months of construction, the 50s Bikeway is looking great, and two of the most important components are in place: comfortable crossings and traffic semi-diverters at two major streets. On Tuesday, I swung past to get some photos.
Here's one of the most expensive but important components of the project: a new HAWK signal at Burnside and 53rd that lets people walking or biking push a button to stop traffic on Burnside, which carries 15,000 cars a day at this corner:
You can also see, in the photo above, the way that signs (two of them in each direction!) bumpouts and pavement markings have been used to allow traffic to turn off 53rd in both directions, but to make it clear that cars shouldn't turn onto 53rd from Burnside. Here's a closer look at the narrowed crossing:
I wondered what the nearby Tabor Tavern, which sits on this corner and is one of the few sit-down restaurants in this area, thought of this change. So I went inside to talk to Elizabeth Powell, who was tending the bar. I asked whether blocking through traffic here had made it harder for customers to reach the business.
"Actually, it makes it a lot better," Powell said. "We have a lot of regulars that live nearby and walk here. I bike here. It's a lot safer."
A mile or so south, the neighborhood greenway jogs over to 52nd and then crosses Division Street. This was the site of a major disagreement during the 50s Bikeway process; people who took part in a Mount Tabor Neighborhood Association vote came out 53 to 52 against a plan to block northbound motorized traffic here other than one motor vehicle: TriMet's #71 bus.
However, the city's plan to reduce cut-through traffic onto 52nd, which had the support of a large majority of people who showed up to the project open house as well as the Bicycle Transportation Alliance and other advocates for better biking and walking, won out. Here's the result: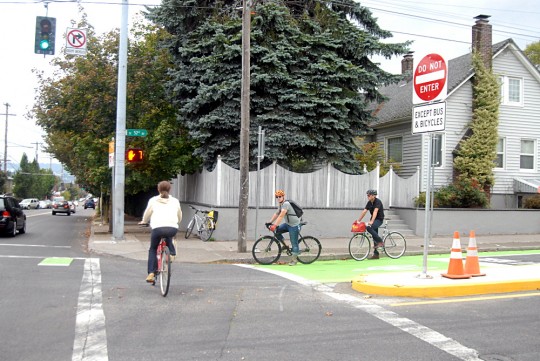 It's a little hard to capture in photographs, but the space that creates the bus/bike-only lane on 52nd is noticeably narrower than the space where auto and bike traffic are allowed. Here's an overhead-view diagram of the redesigned intersection, from the project's engineering documents (in this image, north is to the right):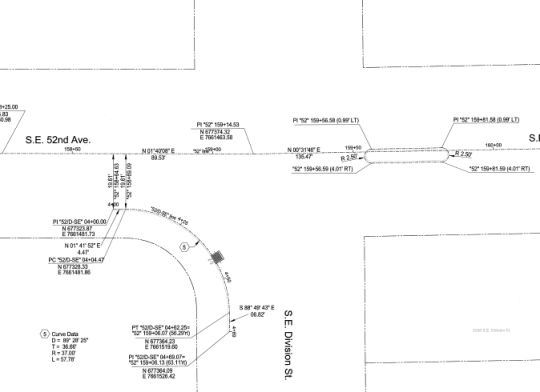 I'm sure a few people are willing to ignore the signs and simply turn in, but this wasn't something I observed while I was there. I also watched someone in a truck wait patiently behind the green bike box that serves southbound traffic and restricts right turns on red.
Though we've reported on some initial parking issues south of Division, where the project added bike lanes, it's clear that this north-south route (which also includes various smaller crossing improvements as well as sharrows, speed bumps and wayfinding signs) is a major boon to riding through the neighborhoods it connects, running at just the route where you can avoid climbing into the foothills of Mount Tabor. It's great to hear that it's improved access to the Tabor Tavern, too.