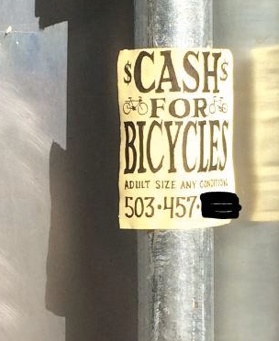 A "Cash for Bicycles" offer posted at St. Francis Park in
SE Portland, modified to remove its number.
(Photo:
Bryan Hance
)
Bryan Hance might know more about bike theft than anybody in the country.
So it's always a treat when the Portland resident and founder of StolenBicycleRegistry.com, now BikeIndex.org, drops some knowledge here. (Note: Hance is also creator of the Stolen Bike Listings tool we use here on BikePortland — which will be relaunched very very soon!)
Here's what Hance had to say on our post about our new Bike Theft Chronicles feature. Hance is working on a similar problem to local startup Project 529 — make it free and easy for everyone to register their bikes before thefts and to track them after thefts — but he's tackling it from an open-source angle.
I wanted to jump in and comment for a number of reasons:

First, to the person who emailed in "I just feel so defeated and vulnerable" — man, I'm right there with you. I field about 30 – 50 stolen bike listings a day, as I'm dealing with cities all over the US, and I get the same fatigue. This is why I'm channeling my work into BikeIndex, and our listings, and our work with cops, riders, BikePortland, etc. to get the kind of helpful info you describe into the hands of people who want to help us fight bike thieves. And it works! You wouldn't believe the needles we're pulling out of haystacks these days when it comes to bike thefts – all we need is the help from people like you. So don't give up, please. We'll provide the tools, you provide the intel, and we get bikes back. Let's push back.

Second, re: transients/thieves. Sensitive topic, but it's out of control – take a walk along the Springwater, under the Morrison/Burnside bridges on the Esplanade, under the 405/Johnson underpass, over by St. Francis park .. I could go on. You'll see the stacks of frames and transients chopping stolen bikes in broad daylight. Even worse, we've got some guy posting "cash for bikes" ads literally feet away from the homeless encampment/chop shop under the Hawthorne bridge. These are the problems we look to PPB for help with, so I look forward to hearing more about how they're going to help tackle this problem. But the thefts are going largely unpunished – even when bikes are recovered – and something must be done about this. I don't envy PPB for the problems they face, but this year is absolutely out of control when it comes to bike thefts, and they're almost always tied to other crimes involving property theft, drugs, weapons, etc. Something in this equation has to change, and we need PPB's help.
I'll admit, it's a rough topic: I'm dealing with my own transient/homeless issues in my neighborhood with a rise in thefts, break-ins, car/backyard prowls, emergency calls, drug use, etc. I've installed multiple dropcams around my house after my own home break-in, which could be the subject of a whole other pissed-off blog post. Reading these daily report about garage break-ins, home break-ins, backyard/side yard entrance thefts, and broad-daylight thefts with pry bars and bolt cutters in broad daylight … it doesn't help dissuade my opinion here.

All I can do is urge people to start taking their home security seriously, and to start assuming creepy thieves/dudes are going to come poking around your backyard at 4am looking for things to take. Because they are. You want proof, follow me at @stolenbikereg and track the listings in Portland and count the number that are taken from people's houses/garages/backyards/halls/basements/car ports/front doors at 4am.

Lastly, one of the largest problems we face is a lack of serial documentation – a HUGE number of the bikes we get registered as stolen don't have serial numbers on file, which means even if the cops catch someone with your bike, they can't match it. This is why I partnered with BikeIndex.org, because they really nailed it with the free registration aspect and solved a lot of the crazy serial and search problems.

So: bike shops – please look into bikeindex.org to help get your customers bikes registered. Fast, free, mobile friendly – please please please do this.

Riders: PLEASE go register your bikes at bikeindex.org – it's free, it's fast, and we keep your info safe, won't spam you, and exist solely to help you protect your bikes. You can check out bikeindex.org for more info. (And BikeIndex data is fully synced with BikePortland's listings, so whether you post your stolen bike there or here, it will all be part of the same dataset.)

PD's [police departments], bike org's, pawn shops, ANYBODY who comes into contact with lots of bikes: we have tools ready to go for you right now to register and search for stolen bikes. Drop me a line – bryan at bikeindex dot org and I'll get in touch. So many things still under wraps, I'm sure you'll read about there here soon 🙂

Thanks, and feel free to drop me a line if anybody has questions.

All of us > Thieves. Don't forget that.

-Bryan Hance
–BikeIndex.org
Thanks to everyone for all your excellent comments. It's been another illuminating, insightful, and inspiring week.