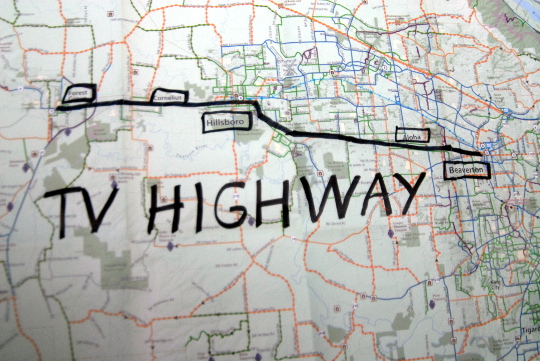 Forest Grove, Cornelius, Hillsboro and Beaverton have a common link: a highway that's mostly terrible to use.
(Photo: M.Andersen/BikePortland)
Final post in a series about the BTA's five new advocacy campaigns.
If Washington County has an aorta, it's the Tualatin Valley Highway. The Bicycle Transportation Alliance has launched a long-term campaign to make a separated bikeway part of the plan for keeping it flowing smoothly.
The highway connects 16 miles of increasingly dense suburban development between Beaverton's historic downtown and Forest Grove.
"More than 120,000 people right now are traveling this route east and west through the county, and right now it's a mess for everyone," BTA Washington County Advocate Lisa Frank said in an interview. "Everyone's realized that it's not working well for people driving on it, and it's certainly not working for people trying to ride the 57 or walk and bike along it."
The street is controlled by the Oregon Department of Transportation — it's also known for most of this length as state Route 8. Frank is organizing bike transportation advocates to weigh in on the TV Highway Corridor Plan, a state-county-city project to address what they call "inadequate facilities and congestion" along the route.
Biking TV Highway today: 'It's hell'
BTA statistics about the TV Highway's current problems.
Frank sees the ideal bikeway here as a combination of on-street protected bike lanes and off-street paths, including stretches near the railroad tracks that run just south of the highway from Beaverton to Hillsboro.
"There's city on both sides of the highway," Frank said. "Going through Aloha or Reedville, there could easily be a couple miles of protected bikeway that link to a couple miles of trail that link to a couple miles of protected bikeway."
Jim Parsons, a longtime Washington County biking advocate, said in an interview that he certainly supports the idea of an off-road trail where possible.
"That's an awful long stretch, and I have to say I have bicycled a good portion of it," Parsons said. "And it's hell."
Frank has studiously avoided putting either a pricetag or a timeline on what is, of the BTA's current advocacy campaigns, by far the most dramatic, expensive and long-term.
If it comes together, she said, it'll by piece by piece over the course of many years, and it'll be because bike advocates stepped up early and throughout the process to connect smaller segments into a longer route — coordinating projects like the proposed Council Creek Regional Trail between Hillsboro and Banks.
"There is definitely still some truth to the idea that the squeaky wheel gets the grease," Frank said. "So we want to be a little bit squeaky."
Quick take: BikePortland's summary of the project
BTA Washington County Advocate Lisa Frank.
Where the idea came from: ODOT, Washington County and the City of Hillsboro are lead partners in the TV Highway Corridor Plan. The BTA created Frank's position late last year in part to use that process as a chance to start building this massive bikeway project into the vision.
What it might cost: Somewhere in the tens of millions including land purchases, path construction and related signals and crossings. That scale of project would be extremely unusual in Multnomah or Clackamas County. But because Washington County passed a transportation property tax measure before a tax-limiting ballot measure took effect in the 1990s, voters there have consistently won major state grants by putting up their own money to match it.
"They don't flinch when it's $7 or $8 million," BTA Advocacy Director Gerik Kransky said.
Likely tradeoffs: Every foot of width adds to the price, and every foot of bikeway is a foot that can't be dedicated to auto capacity or a freight turning radius. Frank said that though seven lanes of traffic have been discussed as an option for TV Highway, that much widening has met resistence. "The community and the planners working on that were very clear that they felt that 5 lanes were appropriate," she said.
How you could help: Contact Frank to sign her petition: lisa@btaoregon.org or 503-226-0676 x18. Or volunteer to help organize supporters using the BTA's online tool.
"We're looking for people that want to sign and say that they support it, but also folks who are willing to go out to Beaverton Transit Center and talk to people about this work," Frank said. "People who are wiling to go out to farmers markets, street fairs."
This is the end of our five-post series about BTA advocacy campaigns, but it's only the beginning of our coverage. Stay tuned as we follow these projects and let you know how people are getting involved.
Michael Andersen was news editor of BikePortland.org from 2013 to 2016 and still pops up occasionally.