Posted by Michael Andersen (Contributor) on July 25th, 2014 at 10:04 am
The new owner of the Paramount Apartments on N Flint and Broadway built a new indoor bike parking area and charges tenants $6 a month to use it.
(Photo J. Maus/BikePortland)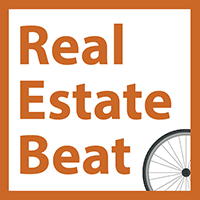 Here's a question for those who say it's only fair for car parking to cover its own costs: Should bike parking ever do the same?
Whichever way you come down on the question, the new landlord of an inner North Portland apartment building is putting it to the test. He spent $2,000 to add 40 indoor bike parking spaces, a bench and a repair clamp to an unused shop room and is now charging tenants $6 a month per bike to use it.
"Just trying to recoup some of my labor and expense," the landlord, Roy Eberle of Eugene, explained in a phone interview Thursday.
Eberle decided against recouping that cost by building it into every unit's rent.
"You know, some people don't bike. People have a choice this way."
— Roy Eberle, owner of Paramount Apartments
"You know, some people don't bike," Eberle went on. "People have a choice this way."
Charging anything at all for indoor bike parking is unusual in Portland apartment buildings, in part because city code requires new buildings to provide at least 1.1 bike parking spaces per unit — slightly more than most buildings currently tend to fill. Unless space runs short, landlords commonly choose to offer it as a free amenity.
In Eberle's building, the 66-unit Paramount Apartments at 253 N. Broadway between Wheeler and Flint, space hasn't run short yet. A few weeks after the 40-bike space opened, he estimated that about 20 people are using it.
Matt Stefanik, one of Eberle's tenants, isn't among them.
"I'm not going to pay $6 for that," said Stefanik, who owns two bikes and pays $800 a month including utilities for a studio of about 450 square feet. "I just keep them up in my apartment. It's not a big deal."
Stefanik is one of many Paramount residents who don't own cars. Those who do, he said, can pay "$75 or $65 a month" to store one in the nearby lot.
Eberle, who took out a mortgage to buy the property for $7 million late last year, said he was talked into adding the bike parking by his maintenance worker and on-site manager.
"They were bikers and they wanted a bike room," he said. "It's working out. I'm surprised that so many actually wanted storage. … It's a bike town, as you know."
Eberle's decision to voluntarily add indoor bike parking to an old building is one many local landlords are facing, now that such rooms are a standard amenity at every new building.
At $120 a month, Eberle's $2,000 cash investment (which didn't include his labor) will be paid back in a year and a half.
He added that getting fewer tenants to store bikes in their rooms is likely to save him maintenance on the doors, molding, drywall and paint.
Betsy Reese, a local property manager and biking advocate who owned the Paramount with her husband before selling it to Eberle last year, wrote in an email that though she doesn't charge extra for bike parking at her other properties, she sees no problem with the new owners charging a nominal fee.
"I would say that the new management at the Paramount should be commended for converting to bike parking the space that we had used for our shop and office," she wrote. "I wonder how many other 1920s-era big apartment buildings in Portland have retrofitted for a common area for indoor bike parking?"
Stefanik, understandably, is less of a fan. For the moment, he'll be continuing to haul his bikes past the parking room and up the elevator to his studio.
"I'd use it for sure if it didn't cost anything," he said.
— The Real Estate Beat is a regular column. You can sign up to get an email of Real Estate Beat posts (and nothing else) here, or read past installments here. This sponsorship has opened up and we're looking for our next partner. If interested, please call Jonathan at (503) 706-8804.