Posted by Michael Andersen (Contributor) on May 20th, 2014 at 4:54 pm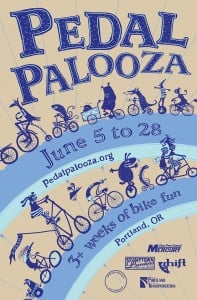 Four of the best weeks of biking you'll see anywhere start June 5, but they only happen because people like you create them.
Pedalpalooza, Portland's annual open-source festival of bike fun, is welcoming anyone's additions to its calendar until 11:59 p.m. this Friday, May 23.
Anyone can keep adding rides after that, but they won't be printed in the hard-copy calendar that appears in the Portland Mercury.
This year's official poster, at right, is by local artist Gesine Krätzner. The festival is organized, as ever, by the volunteer group Shift in partnership with its fiscal agent Umbrella and with financial support from the Mercury, Stumptown Printers and the Portland Bureau of Transportation.
The tentpole rides of this free festival are the kickoff ride on Thursday, June 5; the World Naked Bike Ride on Saturday, June 7; and the Bike Fair on Saturday, June 28.
But the really precious gems are smaller events like the Beverly Cleary Bike Train (bring your mouse-on-motorcycle costumes), the Wimpy Pop Ride (blast your Belle and Sebastian), the ToxiCITY ride (a tour of local toxic sites and how to fix them) and the Bride Ride for Ellen and Drew's wedding ("fertility rituals optional").
There's always a rush of new rides before the deadline, and no time like the present to join the fun with a ride of your own.