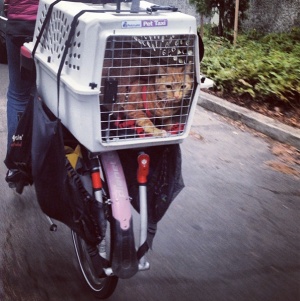 Our family cat "Dusty" on the way to the vet.
(Photo J. Maus/BikePortland)
On Tuesday, Portlander Sonia Connolly went to adopt a cat at the Oregon Human Society. Unfortunately, because she planned to take it home by bike, she was informed that she couldn't complete the adoption.
Connolly then shared her experience on a local email list and on Twitter. She claimed OHS policy required that all animals must be brought home in a car. Someone who read Connolly's email contacted OHS to inquire about the policy and received the following email from a customer service rep:
"Yes, this is true. We require you take the animal home in a car. If you do not have a car, you will either need to arrange for a ride or call a taxi. This is not only for the animal's safety but also many forms of public transportation will not allow animals. Also, Columbia is a very busy road so we are extra cautious for the animal's safety and the safest way for them to leave here is in a car. Thank you."
"We look at it from the pet's perspective… They don't love the car ride and I can only imagine how they'd respond to a bicycle ride."
— Barbara Baugnon, Oregon Human Society
Connolly was disappointed in the policy, which she said wasn't explained anywhere on their website. "I shouldn't have to hide that I ride a bike," she shared with us via email, "and OHS shouldn't have covert policies that discriminate against some adopters… My opinion is that it's none of their business how I choose to transport myself and my dependents, even if newly adopted."
We contacted OHS public affairs department and spoke about the situation with Communications Director Barbara Baugnon. She explained that their organization is very bike-friendly, that many OHS employees ride bikes and they have a bike rack in front of the business.
When I asked if their policy prohibits adopters from taking pets home by bike she said it's a discretionary decision that can be made on a case-by-case basis. "We look at it from the pet's perspective," she said. "With a cat specifically, they're notoriously bad travelers. They don't love the car ride and I can only imagine how they'd respond to a bicycle ride."
If someone doesn't have access to a car and wants to adopt a pet, Baugnon suggested they could plan ahead. "It's the same as if you want to move a couch. How would you plan for that? It's an extension of responsible pet ownership. Maybe it's asking a friend to drive you. Or, if you came here on a bike and fell in love with a cat, you could put it on hold while you wait for transportation."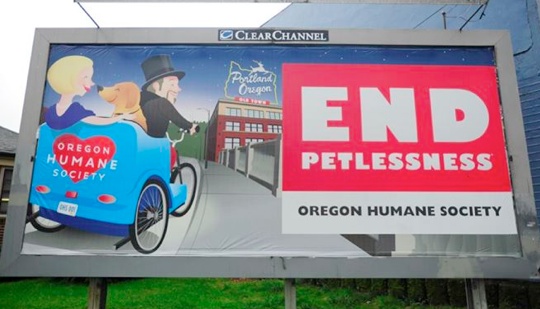 A billboard ad from OHS shows a dog in a pedicab.
(Photo: Sent in by a reader)
Baugnon went on to explain that their philosophy is that the adoption process officially ends at the car. They walk dogs and cats out an adopter's car to make sure it gets securely fastened for a safe ride home. "Our last gift to that pet is getting it into that car."
Until this morning, Baugnon didn't even realize pet adoption by bike was an issue. "I didn't give it too much thought, but it sounds like, from a pet's perspective, that would be incredibly scary and could possibly mean getting the adoption off on the wrong foot." A car is a better choice than a bicycle for a newly adopted cat, she explained, because a car ride would feel more enclosed (without fresh air blowing in), it would have fewer vibrations, and it would be quieter — all things cats prefer.
Baugnon also expressed concerns that a cat could claw through a cardboard crate, and then even escape from a bike trailer. The thought of that made her very nervous. "They finally got their golden lottery ticket to get home… And I just want them to get home."
A major element in OHS's concerns are that they are unfortunately located on Columbia Blvd, a major arterial full of fast cars and semi-trucks and with no bike lanes or even a shoulder. The closest bus stop is 1/2 mile away. "This isn't even about the bike vs. the car, it's about the location of OHS. It's not like we're on Belmont or Hawthorne, it's a treacherous road. It's treacherous to even walk on."
As I explained the bicycling perspective to Baugnon, and offered my opinion on why some people might not be thrilled with their existing policy, she was open-minded and genuinely interested in taking proactive steps to improve the situation. She said they plan to explicitly address the bicycling question on their adoption web page. We shared ideas on how best to do that, including some tips on how to ensure the best experience for those who want to bike a pet home (like borrowing a cargo bike and bringing a few blankets to drape over the crate).
Another possibility Baugnon seemed to like would be to partner with a taxi cab company and offer free rides home for bike-riding adopters.
This is a new issue for OHS and they seem more than willing to address it. It's clear to me they want to make the experience of adoption as positive as possible — regardless of whether the pet gets home in a car or on a bike. "I'm sure bikers would provide a wonderful home for pets, we just want to make sure the pets get home safely."