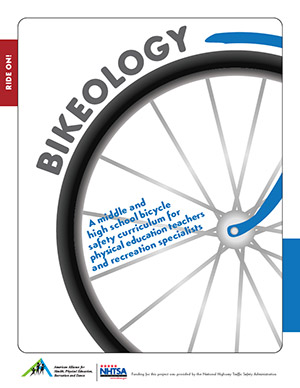 Click the image for a link to the documents.
When the basics of biking are essentially passed on as folk wisdom from one individual to another, is there any wonder so many of us fail to pick up the best practices?
Local programs like Safe Routes to School and Create a Commuter try to fill this gap for elementary schoolers and working-age riders, respectively. And now the federal government is offering a free three-part guide aiming to help middle school and high school "physical education teachers and recreation specialists" teach the basics of bike use, maintenance and safety.
The 355-page curriculum includes seven units: Getting Ready to Ride, Bicycle Handling Basics, Emergency Bicycle Handling Skills, Advanced Bicycle Handling Skills, Rules of the Road for Riding, Bicycle Maintenance and Riding for Fitness.
In addition to key goals and skills for each unit, it includes both written activities like themed word searches and instructions for setting up physical activities like practice rides.
There's also a 34-page guide aimed at parents, with slightly more detailed information and advice.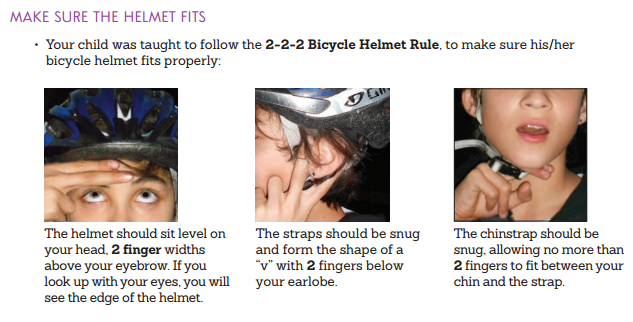 Helmet fitting tips from the parents' guide.
The guide is a project of the National Highway Traffic Safety Administration and the American Alliance for Health, Physical Education, Recreation and Dance.
It's certainly not a much of a marketing document.
"Bicycles are associated with more injuries and deaths than any other consumer product other than the automobile," the curriculum points out in a characteristic section urging every bicycle rider to use a helmet for every trip.
If I received the curriculum or parent's guide without having already decided that it was a good thing to get my students or children on bicycles, I'd be terrified: none of the documents has a single photo of people enjoying themselves, and it's left to instructor and students to come up with ways to convey the pleasures and advantages of biking in addition to the tasks, responsibilities and concerns.
That said, it's great to see the federal government making a serious effort to aid bike education at an age when we build our first transportation habits and too many girls, in particular, tend to abandon the activity. With Portland's own Safe Routes to School program expanding into middle schools this year, hopefully it'll be a useful tool.
Michael Andersen was news editor of BikePortland.org from 2013 to 2016 and still pops up occasionally.