A new survey helps explain why city leaders have been putting better sidewalks and crosswalks at the center of their push for new transportation funding: it's the issue voters say would be most likely to win them over.
A whopping 86 percent of Portlanders polled last month said the presence of "sidewalks and safety features in places where children need them to get to school and seniors need them to get to transit" would make them more likely to support a new city transportation revenue package. The second most popular issue, with 84 percent support, was "more crosswalks and flashing light signals on streets with dangerous intersections and bus and transit stops."
Protected bike lanes, by contrast, were less universally popular. 64 percent of Portlanders said they'd be more likely to support a package that "created bike routes that separated people riding bicycles from car and freight traffic."
The issue on the list that Portlanders found least moving: paving the city's unpaved and gravel streets. 60 percent of Portlanders say they'd be more likely to support a funding package that included gravel street paving, and 36 percent said they'd be less less likely.
Here's the full list of issues the city presented, with green bars representing the most important to winning Portlanders' support. Click to enlarge: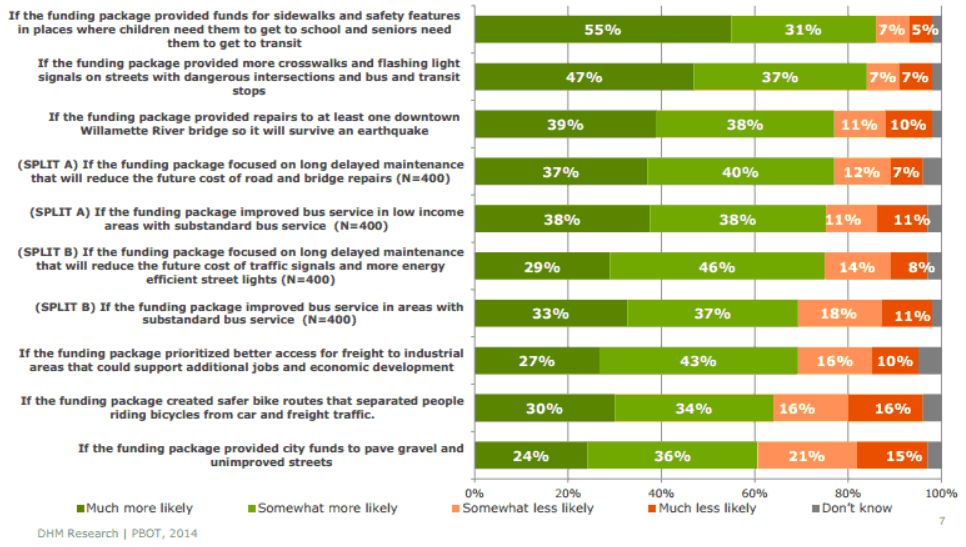 Public concern about pedestrian safety has grown "significantly" since a similar poll in 2007, pollster Adam Davis found. His "seven takeaways" from the survey are in this slideshow.
"In 2007, about two out of three people said more crosswalks on streets with bus and transit stops would increase their support for funding," the city said in its Monday news release. "Now, more than eight in ten say the same thing. By contrast, feelings about the need for long delayed maintenance that will reduce the future costs of road and bridge repairs have remained steady at three-quarters support."
Portlanders' relative lack of enthusiasm for paving unpaved streets shouldn't be confused with their support for maintenance of paved streets, especially major ones. When the poll gave Portlanders an open-ended question of what the city's "biggest transportation-related needs" would be, here's what they said (the circles are the pollster's):
Finally, here's a third chart, reflecting voters' answers to a question that asked them to rate various priorites from 1 to 7:
The results were based on a survey of 800 Portlanders. The results are multi-faceted; expect more coverage over the coming weeks (and expect different news outlets to interpret the same survey in different ways).
We've focused here on the question of what issue is most likely to sway voters because that's the most pressing issue at hand for the city. As we've been reporting, the city is gathering public opinion and insight in an effort to approve a new transportation funding source later this year, either by council or public vote.
Three town halls later this month will also give the public a chance to learn about the subject and weigh in:
Thursday, Feb. 20, 6:30 to 8:30 p.m. at Sunnyside Environmental School, 3421 SE Salmon St.
Tuesday, Feb. 25, 6:30 to 8:30 at Immigrant & Refuge Community Organization (IRCO), 10301 NE Glisan St.
Thursday, Feb. 27, 6:30 to 8:30 p.m., Multnomah Arts Center, 7688 SW Capitol Highway
Members of the public can also contact Mark Lear at (503) 823-7604 or mark.lear@portlandoregon.gov for more information.
Michael Andersen was news editor of BikePortland.org from 2013 to 2016 and still pops up occasionally.