The new design coming to Williams Ave will
look mostly like this: One buffered bike lane
next to one standard lane.
(Graphic: PBOT design plans)
About three years (to the day) after the City of Portland's first meeting for their N. Williams Ave Traffic Operations + Safety project, the public will get a chance to see detailed design drawings of the project.
When the Stakeholder Advisory Committee for this project voted to adopt the changes on Williams 18 months ago, they did so based on concept drawings and rough renderings of the proposed changes. These "30% design" plans offer the first real detailed look at how PBOT will change Williams Ave.
Bureau of Transportation project manager Rich Newlands announced today that PBOT staff will host a meeting at Legacy Emanuel Hospital on Tuesday, February 4th "to review the plan set and talk with staff from the design team".
We've been taking a closer look at the 44-pages of plans and here are a few things we noticed:

New signal coming at Williams and Cook: Cook is the street that is an exit from I-405. At both Williams and Vancouver (one block west), the evening rush hour is a zoo. And now, with New Seasons Market recently opened on the block just north of Cook, it has gotten even crazier. A new signal is expected to help calm things down a bit. The plan drawing for this below looks cluttered, but it shows the new signal and the lane markings…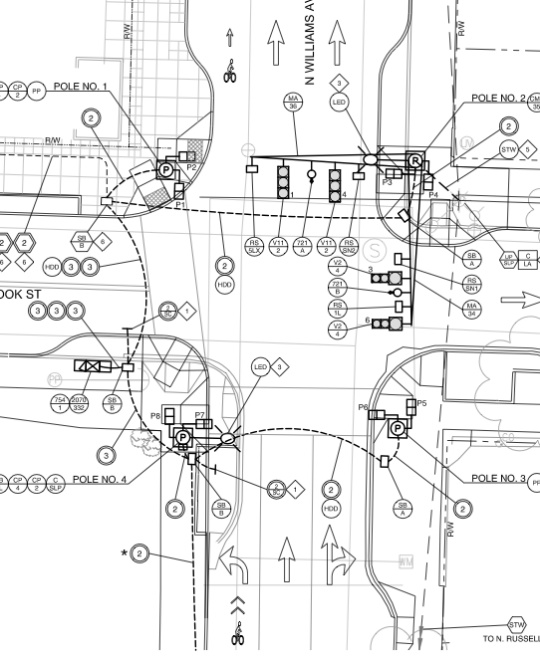 Green colored sections: Prior to seeing these plan drawings, we hadn't seen exactly how PBOT would deal with potential conflict zones. Looks like they'll paint six sections of green in the bike lanes (three of them in the high traffic blocks between Fargo and Fremont, including one at the main entrance to New Seasons' parking lot) as well as three green bike turn boxes on cross streets (Tillamook, Russell, Going). These turn boxes will help people riding bicycles make a two-stage right turn from the bike lane on Williams toward the east. Instead of swinging right directly from the Williams bike lane, you'll swing left into the turn box, re-orient yourself to the east, wait for a break in Williams traffic, then be on your way.
In the drawing below, you can see how PBOT plans to use two green-colored sections (black in the drawings) near New Seasons…
Lots of new curb extensions: Making good on their goal of improving walking conditions, the plans call for 14 new curb extensions. The intersections of Going and Failing will get a three curb extensions each. These will make crossing safer as well as calm traffic by narrowing the road cross-section. Check out the plans for the Going intersection: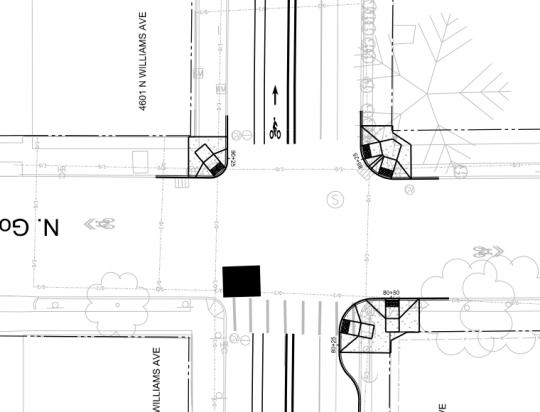 Bi-buffered bike lane: Most of the 30 (or so) block footprint of this project will have a relatively wide, seven-foot bike lane with painted buffers on each side. The bike lane will be to the left of just one standard vehicle lane, except in a few sections where there will be two lanes and the painted buffer drops into various types of mixing zones. We'll get exact details on this at the event next week and report back.
Here's a look at the block between Weidler and Broadway, where the buffered bike lane begins…
No physical separation or delineators?: We don't see anything in these plans calling for delineators or other types of physical separation in the buffer zone of the bike lane. The digital renderings shown at past meetings showed plastic "candlestick" lane delineators, so we'll ask about these at the meeting Tuesday.
Tillamook will be easier to cross: Tillamook is a key bike east-west bike route and as such, it will get some much-needed changes to make it easier to cross at Williams. Check the plans below to see the new zebra-striped crosswalk, curb extensions, and green bike box — all of which should calm Williams traffic while aiding people trying to get across it…w
It's exciting to see real progress on the changes coming to Williams Ave. At next week's meeting, we look forward to hearing more about the "Honoring History" element of this project as well as the latest plans to re-design Rodney Ave, which is a popular alternate route just a few blocks east of Williams.
As for a timeline, PBOT expects to begin construction in late July/early August of this year.
Here are the meeting details:
Williams Ave Project Drop In
Tuesday, February 4th
12:00 to 1:30 pm
Legacy Emanuel Hospital, Room 1027 (entry via corner of N Gantenbein and Stanton)
Download a PDF of the plans here (44 pages, 8.7 MB).