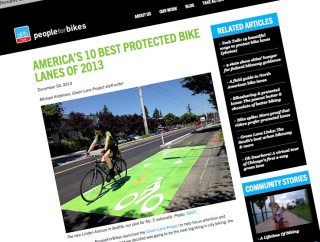 In the latest sign that Portland's lead as America's best cycling city is dwindling, we were completely left out of a list of the year's top 10 protected bikeways published by People for Bikes yesterday.
People for Bikes (formerly known as Bikes Belong) is an industry-funded advocacy group that also runs the Green Lane Project, an effort to hasten the development of protected bikeways across the country. Portland was one of five cities selected to be part of that program when it launched in May 2012; but despite our long-held reputation as a bikeway innovator, we lag behind other cities when it comes to protected bikeways (loosely defined as bike lanes with some sort of protection from other lanes of traffic). According to a Green Lane Project inventory, Portland has managed to build just 3 miles of protected bikeways in the last four years.
Portland's absence from the top 10 isn't because our protected bikeway designs are bad, it's because we didn't even build any new ones in 2013. The one Portland project listed in the Green Lane Project's inventory for 2013, SW Multnomah Blvd, has been delayed and is yet to be built.
As for the other cities who are moving forward faster than us on creating next-generation bikeways, here's more from People for Bikes: (Note: The Top 10 blog post was written by Michael Andersen, who also happens to be BikePortland's news editor.)
As the thermoplastic dries on this year's round of terrific protected bike lane projects, we decided to scour the country for a comprehensive (and subjective) ranking of the best of the best. We talked to experts and advocates around the country, looked at technical photos and schemes and read the news reports to understand not just how these bike lanes were designed, but why. Though the word "complete" can be hard to define for something as malleable as a city street, every project on this page has been in some clear sense finished during this year.
And here's the top 10 list:
1) Dearborn Street, Chicago
2) Indianapolis Cultural Trail
3) Guadalupe Street, Austin
4) Fell and Oak Streets, San Francisco
5) Linden Avenue, Seattle
6) First Avenue, New York City
7) Milwaukee Avenue, Chicago
8) 10th Street, Atlanta
9) Cherry Street, Seattle
10) Overton Park Road, Memphis
Pretty striking to see all those other cities getting into the action while Portland isn't even part of the story. There's been a growing discussion around these parts about the Great Portland Cycling Stagnation and this seems like yet another clear sign that it's real. What caused it? How do we move beyond it? These are just some of the questions we plan to cover in the coming weeks. Stay tuned.