Posted by Jonathan Maus (Publisher/Editor) on December 3rd, 2013 at 10:36 am
Showers Pass is expanding their product line once again with the new "Crosspoint" sock which they say is waterproof and breathable. Check out the photo and press release below and stay tuned for our review once we get a pair to try out…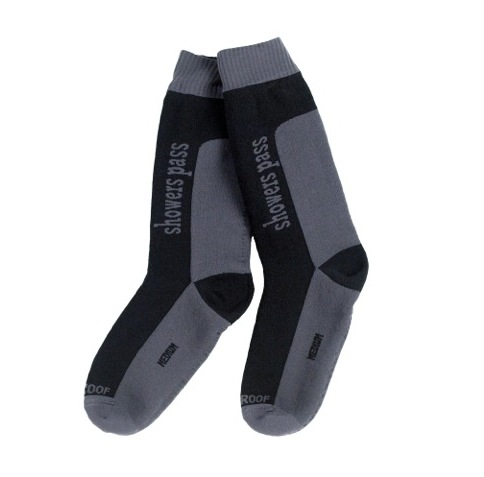 NEW: Waterproof Breathable Socks from Showers Pass
Three-Layer Bonded Construction Provides Truly Innovative Wet Weather Protection for
Cycling, Running, Nordic Skiing, and Other Outdoor Activities

Portland, Ore., December 3, 2013 – Showers Pass, the Portland, Oregon-based leader in wet and inclement weather protection for cyclists has introduced a first-ever, multi-sport waterproof-breathable sock for cycling, running, skiing and other outdoor activities.

Reflecting Showers Pass' trademark attention to detail and commitment to solving the problems of cyclists and other outdoor athletes, the new Crosspoint WP sock provides fast, reliable moisture control for even the toughest outdoor sports – while still feeling like a normal sock.

Thanks to a three-layer bonded construction, the new Crosspoint sock provides reliable moisture control and full submersion protection for even the toughest outdoor sports. An Artex waterproof-breathable membrane is sandwiched between the knit outer layer and moisture-wicking Coolmax FX nylon lining for total protection and optimal comfort. A touch of Spandex ensures a snug fit.

"When you're talking about outdoor sports in winter, it is critical to protect your feet and keep them dry," says Kyle Ranson, president, Showers Pass. "Being miles from home in harsh conditions with wet feet can get you in serious trouble very quickly. But that's no reason to be stuck in clammy, uncomfortable footwear. That's why we've taken everything we know about temperature and moisture control in outerwear and poured it into the fabrication of these new socks."

The Showers Pass Crosspoint Mid-Calf WP sock retails at an MSRP of $35, and is available from cycling and sports outerwear retailers worldwide. For more information on this and other Showers Pass products, visit www.showerspass.com.

###

About Showers Pass (www.showerspass.com)
Portland, Ore. based Showers Pass designs and markets technically innovative cycling outerwear and bicycle accessories to top independent bicycle dealers, specialty retailers and a strong, loyal consumer base across the United States and abroad. Showers Pass gear is engineered for bicycle racers, commuters, and everyday cycling enthusiasts. The company is focused on designing performance products so innovative that they inspire more people to ride in any and every weather condition.
Jonathan Maus is BikePortland's editor, publisher and founder. Contact him at @jonathan_maus on Twitter, via email at maus.jonathan@gmail.com, or phone/text at 503-706-8804. Also, if you read and appreciate this site, Jonathan hopes you'll become a supporter.