Organizers Tom McTighe and Laura Recker with the afternoon's haul.
(Photos by M.Andersen/BikePortland)
In an event organizers said might be the first of a new tradition of charity-oriented bike fun in Portland, 96 cheerful people pedaled across the city Saturday to gather an assigned list of goods from the city's grocery stores and co-ops.
The alleycat-inspired game, which was part of a 14-year-old American tradition called Cranksgiving, brought in $1,573 worth of dry goods for Outside In, a local nonprofit that helps homeless young people and other marginalized Portlanders.
"This isn't a race," one organizer said at the start. "But because this is America, there's going to be a prize for the first team back. And because this is Portland, there's going to be a prize for the team with the best costumes."
The leaders of the event, Laura Recker and Tom McTighe, are both relative newcomers to the Portland bike scene and were assisted by a few local veterans of it. They worked with Outside In to develop a list of much-needed items, including cream of mushroom soup, dried beans, adult underwear and olive oil. Teams of two to five each received a list of items to gather and a list of local businesses to get them from — one from each location. The destinations ranged from Western Bikeworks on Northwest 17th to New Seasons on Southeast Hawthorne, with plenty of points in between.
Before we set out on Saturday, teams received their lists:
We all plotted our strategies: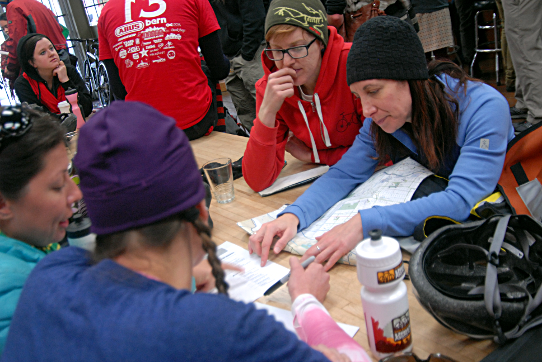 Two of the behind-the-scenes helpers, Zed Bailey (green sweater) and Halley Weaver (pink hair), made sure things were running smoothly:
Then we all headed out:
A couple hours later, everyone returned to the home base, Velo Cult, to turn in their items and receipts and refuel:
Meanwhile, Recker tallied the haul:
Who was that masked man?
The team with the best costumes dressed up as different parts of Thanksgiving dinner:
And all the winners got to draw prize envelopes from a pair of spinning bicycle wheels:
Somehow, despite a challenge from Recker last month, Portland's slightly more boring friends to the north managed to turn out more Cranksgiving participants this year. Seattle's fourth annual Cranksgiving brought out 126 players on Saturday. Probably while wearing fancy scarves or something.
We'll get them next year. After starting in New York City in 1999, Cranksgiving has now spread to in 25 U.S. cities and Budapest, Hungary, organizers said, and they expect to repeat it in Portland in 2014.
McTighe, who is organizing 17 fun bike rides this winter under the name Puddle Cycle, said it's even inspired him to think about "a charity-based alleycat once a month."
"I'm hoping to do more community service kind of stuff," he said. "People love it and it makes a real difference. … I would like to see Christmas, MLK, Valentine's."
McTighe credited Bailey, who has been working to encourage a new generation of urban bike fun in Portland, for connecting him and Recker.
Recker, a transplant from Minneapolis, is "bringing back the alleycat scene in Portland, Oregon," said Maria Schur of Western Bikeworks.
Players Saturday said they enjoyed the event, too. Sean Brady, 24, said he'd decided to finish even though his teammate Anthony Dryer had been called away mid-ride. He returned to Velo Cult with $33.83 in donated goods.
"I didn't eat today," Brady added, smiling and sipping from the can in his hand. "So far, just beer."
Cranksgiving was sponsored by many great local businesses, including BikePortland. Participants contributed $1,073 for grocery purchases and Dave's Killer Bread contributed 100 loaves of their product. You can check out more photos from Cranksgiving here, by Mick Orlosky, and watch Bailey's video of the fun: