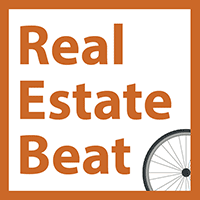 As California's tech boom spills into Portland, there's a growing fear among housing developers and advocates that the bad parts of the Bay — displaced cultures, closet-sized bedrooms and sprawling commutes for the many who can't afford to live near work — might be on the way, too.
"We could become San Francisco," Portland Housing Bureau program coordinator Kim McCarty said Friday at a conference organized by Housing Land Advocates about the role of transportation in affordable housing.
It'd be a shift that, if mismanaged, could pull the Portland neighborhoods that are relatively bike-friendly out of financial reach for much of the population.
On one wall was a map of Portland neighborhoods, color-coded by their residents' vulnerability to being involuntarily forced to move (above).
The cause of the change, speakers seemed to agree, is also the Portland region's economic strength: since around the turn of the century, more and more people seem to want to live here.
"Lots of people are moving here, which is creating more demand for housing," explained Matthew Gebhardt of Portland State University's School of Urban Studies and Planning. "More people moving to the area means more demand at every single price point. … Vacancy rates are very low. There's not enough units to meet the demand of just the regular housing market, much less the affordable housing market."
The latest Census figures, Gebhardt said, show that Portland's nation-leading shortage of rental units continued in 2012.
A new wave of 6,000 new urban apartments starting to arrive on the market, Gebhardt said, are largely being financed by "institutional investors" such as pension and insurance funds who see the potential for long-term payoff as local rents keep climbing.
"The people who rent from us want to live there because they either want to get to work or want to get a date."
— Eric Cress, Urban Development Partners
New construction may release some pressure from the system and slow the overall rise of rents, Gebhardt said. But in the short term, the buildings aren't lowering average prices in the city; just the opposite. Because they tend to be higher-priced per square foot than the buildings they replace, the immediate effect is to raise average rents.
"The development community is responding to the pressure for market-rate units, but not for affordable units," he said.
Eric Cress of Urban Development Partners, a local company that specializes in building and managing upscale low-car apartment buildings on the east side, didn't disagree. Central-city rentals are attractive, he said, and people are willing to pay for them.
"The people who rent from us want to live there because they either want to get to work or want to get a date," he said.
Few speakers at Friday's event seemed confident of any particular solution to the rising price of Portland life.
One conference attendee and HLA board member, Community Alliance of Tenants Deputy Director Justin Buri, said the logical response to a surge of developer investment would be to redirect some of that wealth toward constructing housing that would be required to be offered below the market price.
"In general, the in-migration is a benefit, because it gives us resources," Buri said.
Buri said he hopes that Housing Land Advocates might be able to form an alliance with some developers: If developers throw political support behind policies such as inclusionary zoning, then that organization or its allies could mobilize their supporters to attend public hearings and rebut "not-in-my-backyard" opposition from nearby homeowners.
"Housing and transportation are two that are really tightly related," Buri said. "It's good to see more attention being paid in the area to the way the two work together."
Clarification 12:54 pm: Buri's concept of an alliance with developers referred mostly to his role with Housing Land Advocates and only secondarily to his job with Community Alliance of Tenants.
— The Real Estate Beat is a weekly column. Read more here, and don't forget next week's real estate Wonk Night, sponsored by Omission Beer, to discuss reforming Portland's bike parking code.