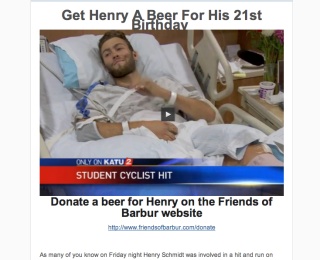 Friends of Barbur, a grassroots group working to make SW Barbur Blvd a safer place to drive, bike, and live, is doing what it can to support Henry Schmidt, the 20-year-old Lewis and Clark College student was hit and left for dead while walking his bike on Barbur early Friday morning.
Friends of Barbur is asking people to "Donate a beer for Henry for his 21st Birthday" via their website. Here's more from an email they just sent out:
As many of you know on Friday night Henry Schmidt was involved in a hit and run on Barbur Blvd. He is currently recovering in the hospital with a broken leg spleen lacerations, three minor spine fractures, and a concussion. He was only found when a bus driver saw his bike on Barbur and stopped. You can read about it and watch an emotional video of Henry meeting the people who saved his life here.
Henry is a student at Lewis and Clark College and a member of their brewing club. He has told us how much all the community support he has received so far has helped him. Saturday is his 21st birthday and we are trying to get people in the community to buy him a beer. On the friends of barbur webpage you can donate $5 to get Henry a beer. In the donation form you can enter in your favorite beer and a personalized message we will include when we deliver the beers. Please record your favorite beer and we will make all efforts possible to get it for him. All additional proceeds will go directly to Henry. Please share this with anyone you know who might be interested in supporting him.
Friends of Barbur has also announced a bike ride to visit Henry at the hospital. The ride will meet tomorrow (Wednesday, 8/21) in front of the Oregon Department of Transportation Region 1 headquarters (123 NW Flanders) at 6:00 pm, and will ride on Barbur to OHSU. Friends of Barbur volunteer Kiel Johnson is leading the ride. You can follow him via Twitter @go_by_bike for the location of the ride and/or to join the group en route to the hospital.