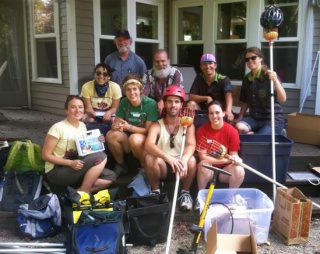 Bike-powered urban fruit tree harvesters.
(Photos by Betsy Reese)
Back in May, we shared how the connection between bikes and urban trees here in Portland is so strong it's garnered national recognition. Now there's another tree-related non-profit that has tapped into the power of bicycles to help further their mission.
The Portland Fruit Tree Project had a "Bike-Powered Harvesting Party" on Saturday in southeast Portland. The non-profit organizes volunteers to harvest and take care of fruit trees that would otherwise be neglected. Half of the fruit goes to a local food bank (via their distribution partner Urban Gleaners) and the rest is taken home by everyone who participates in the harvest.
On Saturday, A group of folks used bicycles and cargo trailers to harvest pears and plums from trees grown in various backyards in the Richmond neighborhood. All their tools, reaching poles, ladders, boxes of fruit and so on, were carried by bike. After the fruit had been picked, local bicycle delivery company Portland Pedal Power showed up to transport the fruit to Urban Gleaners and local school summer lunch programs.
Reader Betsy Reese attended the event and shared a recap and a few photos…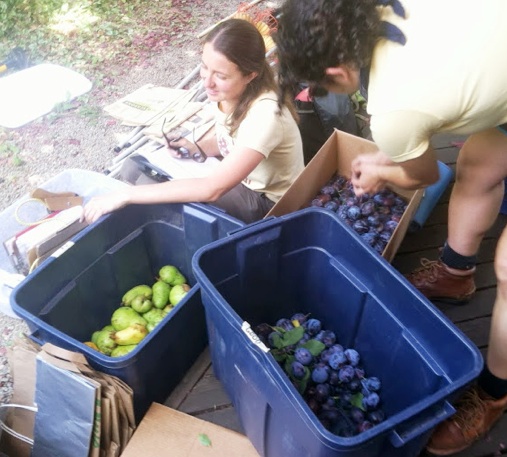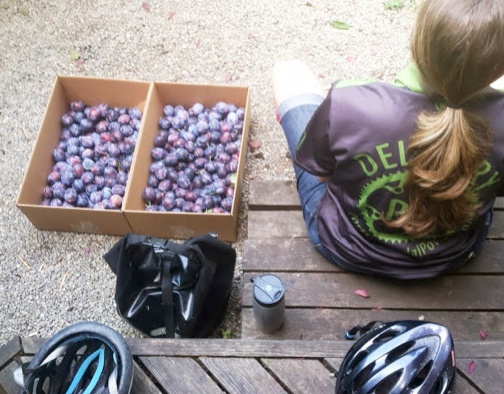 We love seeing human-power and bicycles being used for such a good cause. Thanks for the photos and the heads up Betsy. And thanks to all the volunteers who showed up by bike.