In the first six months of 2013, 92% of net demand for top-grade office space in downtown Portland occurred within two blocks of a food cart pod.
(Photo by J.Maus/BikePortland)
Got some cubicles to rent in Portland? A local real estate analyst says you'd better hope there's a food cart pod nearby.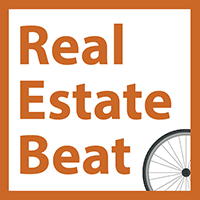 As firms pile into downtown — it's the most crowded commercial real estate area in the city (PDF) — researcher Patricia Raicht of Jones Lang LaSalle has stumbled on a surprising trend. Downtown office buildings, she says, consistently fill up faster when they're close to food carts.
In the first six months of 2013, Raicht said, 92 percent of net demand for high-quality downtown Portland office space occurred within two blocks of a food cart pod.
Jones Lang LaSalle analysts used this map to asses
office demand near four big downtown food cart pods.
It's because the city's growing hive of creative workers craves the affordable chow and freeform lunch style dished up at these former parking spaces, she says.
"When our brokers are out talking to tenants, what they're hearing over and over again — and particularly with creative tenants and tenants that have a younger demographic — is that there are a lot of things that are really important to them," Raicht said in a July interview about the trends in net absorption rates for Class A and Class B office space.
Factors that almost every young firm seems to be looking for in office space, she said: bike access and parking; plentiful light; open, unwalled office layouts; easily configurable collaborative areas; and a pod of food carts within walking distance.
Take New Relic, for example. The fast-growing mobile software firm moved into two floors of U.S. Bancorp Tower (aka Big Pink) last year.
Patricia Raicht.
"In the design of their space, they have a large communal eating area," Raicht said. "At a certain time, a big group of people go out to the food carts, get their food, come back, and they eat together as a community in these large cafeteria-like areas."
According to the most recent figures available, Raicht calculated, the Class A office vacancy rate surrounding downtown's four main cart pods was 5.9 percent, compared to a downtown average of 6.7 percent. That gap is smaller than the one she noticed last fall. In numbers first reported in December by the Portland Business Journal, Raicht had found an average downtown vacancy rate of 8.3 percent, compared to 5 percent in buildings surrounding the cart pods.
Raicht's conclusions aren't ironclad; there are certainly other factors at play here, and food cart pods probably tend to arise in locations near high-quality office space. But Raicht said her team was motivated to do this research because the food carts seemed to be such an important perk for workers who, she said, represent a "new ethos" in Portland's high-end office market.
Raicht attributed changes since last fall to the heat of the local office market. Downtown Portland has one of the country's lowest commercial vacancy rates, she said, and is basically running out of space altogether.
Her findings certainly seem to fit into trends around the world. From Rome to New York to Denver, cities are turning to human-friendly spaces as the focus of retail activity and civic identity. Food cart pods are probably the most famous example of street life that our city has.
And Raicht's research suggests that active streets don't just fit into Portland's business scene. They actually enhance it.
— Read more stories from our Real Estate Beat.