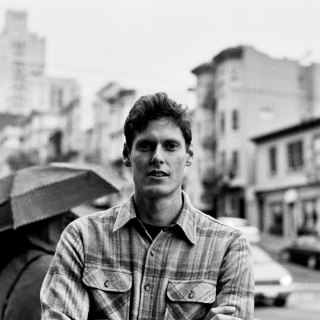 Robin Moore.
(Photo: Aaron Araki)
28-year former Portland resident Robin Moore burst onto the bike world with his role as MC SpandX in the hilarious spoof rap video "Performance". The video was shot entirely in Portland and when it debuted in 2009 it became a viral hit. So far it has nearly 2.3 million views on YouTube. After Performance, Moore went on to create "Get Dirty", "Le Velo" and he scored a few cameos in BikeSnobNYC videos.
Today, Moore is the co-founder of +M Productions and has focused his considerable filmmaking talent onto something much more serious that spandex jokes; an documentary titled "Momenta" which exposes the dangers of proposed coal train exports in the Pacific Northwest. Moore dropped us a line last week and we emailed him a few questions to learn more about his project.
How did you go from the silliness of "MC SpandX" to a major documentary about coal?
— When I was living in Portland, I was immersed in the cycling culture everywhere I went, and I really loved it. With my video "Performance" as the character MC SpandX, I wanted to point out the absurdity of the rivalry between cycling sub-cultures. I also wanted to make people laugh, because sometimes after months without sun, everyone in Portland needs a little pick-me-up. It's been 4 years since Performance went viral and now I'm the co-founder of a San Francisco based production company who's mission is to create positive change in the world, often working with non-profits. This was a surprisingly natural transition, because in Portland and later San Francisco, I was not only steeped in the cycling culture, but was also in the epicenters of green energy and social justice. Through all the cycling videos, and working with many non-profits, the common thread was that we need to start taking better care of the earth. Climate change is the biggest event in human history and I needed to do something about it. Through my Portland connection I was made aware of the proposed ports in Oregon and Washington that would ship coal from the Powder River Basin to Asia. I thought, this is something that has to be stopped if there is any chance of halting climate change. That coal has to stay in the ground. And so the documentary Momenta was born. The goal of the film is to help stop all coal exports through the Pacific Northwest and help bring about the clean energy future.
What did your experience with viral video teach you about the power of films and how do you think that might impact your current project?
— Film has always been a very powerful medium. In the last 5 years it has become even more so now that streaming HD videos online is the standard and sharing them takes one click. When I made Performance I had no idea it would go viral. I had tried really hard to promote other videos of mine with little success. I'm not exactly sure why Performance took off so quickly (although a Facebook post from a certain Mr. Armstrong didn't hurt). The truth is that by it's very nature you cannot predict or control how viral a video will become. One thing that all viral videos have in common is an idea or theme that strikes a chord with a certain culture or sub-culture. My hope is that with my current project Momenta, the survival of the planet and our clean energy future are themes that will strike a chord with Portlanders and all Americans. It's not nearly as funny, but so much more important.
What's your role on Momenta?
— I am co-directing the film with my business partner Andy Miller. I am also one of the camera operators, editors, and the music composer.
Why did you want to do this project?
— I felt like I had to do something to combat climate change. It really is the most important event in human history, and our generation has the power to make the next several centuries good ones or bad ones.
The Tour de France is just starting. Any chance you'll make another bike video anytime soon?
— I don't have anything in the works this year. All my energy right now is being spent working on Momenta. After Performance, Get Dirty, Le Velo, and a couple cameos in recent Bikesnob NYC videos, I feel like my bike spoof characters have been played out. However, if the right project presented itself, I'm sure it wouldn't take too much convincing to get me into some neon spandex. If anything, I will have to parody some type of utilitarian cycling sub-culture; commuters (jeez, those vests!), cargo bikes (did you know you can actually have your cameraman film off the back of a Surly Big Dummy?), or retro-grouch/gentleman-cyclist/tweed-riding/Rivendell-portaging people (No amount of Grant Peterson articles can get me into that camp! Just kidding, Grant is the man!)
What else do you want to share with all your Portland fans?
— Bike culture has often been linked to environmentalism and activism and now is the time to show it. Portlanders have the opportunity to do something really big, and help stop coal being shipped through their backyard. Please help support Momenta on Kickstarter, stay engaged and participate in local events and rallies to stop coal exports, and always keep riding!