Posted by Jonathan Maus (Publisher/Editor) on May 10th, 2013 at 2:27 pm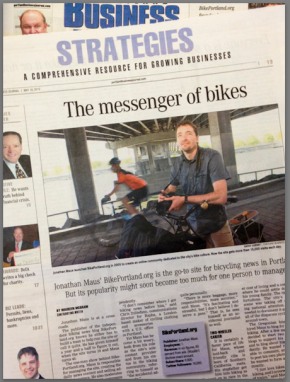 This week's Portland Business Journal.
I just want to clear up a few things about the future of BikePortland. Some of you have read in this week's edition of the Portland Business Journal that I am at a "crossroads" with the site. A teaser article posted yesterday by PBJ Managing Editor Erik Siemers with the headline, Why BikePortland.org's future is far from certain went as far as saying, "soon it could all come to an end."
While I think writer Maureen McGrain and the PBJ did a great job with the piece (which came out this morning), I want to assure you that I'm not walking away anytime soon. In any small business, especially for an independent blog publisher like myself, the future is always a bit uncertain. And, as some of you already know, I am indeed a bit battle-weary after an eight-year tour-of-duty as a one-man media operation.

As I tend to do, I speak candidly with reporters and I always share honest answers to their questions. I told Ms. McGrain exactly what I was feeling when she visited my office a few weeks ago: That at times I get worn out, that my family needs a more full-time dad, and that I need help to keep this operation at its current level (and to reach the untapped potential it has). Also, as the article points out, I see the upcoming 10-year BikePortland anniversary as an opportunity for reflection about where I'm at with my family, my community and my business.
Here's an excerpt from the article (it's subscriber only, or available around town for $2 a copy):
"The pressure to offer balanced and accurate reporting every single day for 8-plus years has made him tired, so he is actively trying to build the right team around him. Where he began the blog as a cheerleader, documenting all of Portland's progressive cycling policies and culture, he has become jaded by the politics and the lack of progress in recent years."
That is true. A lot has changed since I started BikePortland. Some of it good, some of it not so good. But what hasn't changed is my commitment to — and belief in the importance of — independent coverage of bicycle (and transportation) news.
To keep BikePortland strong for another 10 years, I have to make some changes. Namely, I need help from other people who are as dedicated to this work as I've been. To that end, I'm extremely excited about what I announced last week (after I'd talked to the PBJ reporter) — that Portland Afoot founder Michael Andersen and I will soon be working together.
If all goes according to plan, Michael will add a vital dimension to BikePortland. While I know I need to build support and a team, I also know I can't do it alone. I'll need Michael's help, and yours. Like the PBJ article says, I consider everyone who comments here as my "advisory board" — and that's something that will never change.
Thanks for reading and thanks for believing that our best work is yet to come.