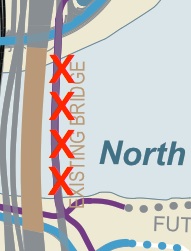 That's OK. We didn't need that.
As Columbia River Crossing (CRC) project backers and project staff face mounting pressure to find funding for their $3.6 billion (with a "b") plan to widen I-5 for several miles between Oregon and Washington, build parking structures, and replace the existing highway bridge — a phasing strategy could jeopardize parts of the bicycling and walking facilities that have been promised for years.
Despite the nearly $160 million that has already been spent in planning the CRC, major problems are still bubbling up and project backers still haven't garnered any significant funding commitment (which many see as a sign of the project's lack of political viability.)
CRC project staff outlined their phasing plans in a document prepared for the September 12th meeting of the Joint Legislative Oversight Committee on Columbia River Crossing. That document (PDF here) proposed a total of $145 million in "Phase 1 savings." Listing among the savings is the "Eastside suspended bicycle/pedestrian path over N. Portland Harbor" which would drop $15 million off the project cost.
Here's a detail of page 33 of that document:
And here's a larger context view of the segment that would be eliminated: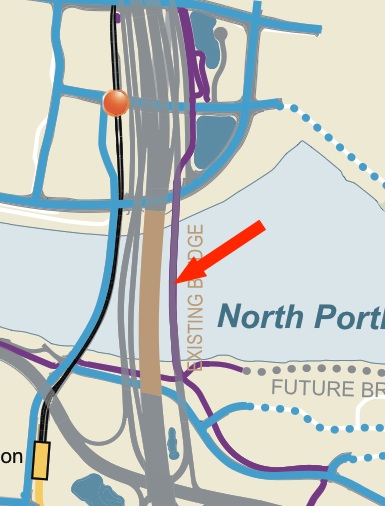 CRC project staff call this a mere postponement:
"The phasing proposal maintains the project focus on increasing safety and improving mainline operations. Some non-highway local improvements are postponed…
Here's how that segment is described on the CRC's Pedestrian and Bicycle Improvements web page:
"A pathway on the east side of I-5 over North Portland Harbor… will allow pedestrians and bicyclists to travel between North Portland and Hayden Island."
Portland economist Joe Cortright, an outspoken critic of the project who follows it very closely, alerted me to this cost-cutting plan this morning. He shares my concerns that given the funding pressure this project is under, pieces of the project that are promised to come later in phases, might not ever happen. He sees their language to legislators as trying to have it both ways: "CRC wants to describe these cuts both as "postponements" — meaning we'll do it later, so we don't save any money — and also as "savings" — implying that we'll never do it."
The way Cortright sees it, this is just the beginning. With a financial plan that is falling apart (they failed to secure a $400-500 million earmark they'd been counting on in the new federal transportation bill), Cortright says, "It promises to get worse."
Adding to the bad bikeway/walkway news, Cortright also thinks CRC project staff haven't fully considered how much more expensive it will be when they are forced to raise the bridge height to satisfy the U.S. Coast Guards navigation requirements (an issue that has plagued the project in recent months). That higher elevation means the biking and walking facilities will not only be more expensive, they will also be far less pleasant to use.
This type of last-minute cost-cutting on the back of biking and walking infrastructure in big projects is a constant occurrence. We just saw it attempted on the Sellwood Bridge and it's what many people fear will happen if the plans to widen I-5 at the Rose Quarter (which is, coincidentally just south of the CRC project's footprint) ever go through.
Stay tuned. CRC news will be heating way up in the upcoming legislative session as project backers attempt to push for a 1 cent gas tax and other fee increases in a desperate attempt to raise funds.
Contact Jonathan at @jonathan_maus on Twitter, via email at maus.jonathan@gmail.com, or phone/text at 503-706-8804. Also, if you read and appreciate this site, please become a supporter.