A pair of Oregon State University computer science majors are riding high on the success of a business they started just three years ago. Cullen King, 29, and his partner Zack Ham, 28, are the duo behind Ride With GPS, an online tool that allows people to plan routes, create custom cue sheets, transfer data between GPS devices, and compare their ride logs with other users.
Cullen, who works from his home office in northeast Portland (Ham lives in Eugene), stopped by my office yesterday (the last time I featured them was in June 2010 when the attended the Oregon Bike Summit).
Cullen said the idea for Ride With GPS came when he and Zack would ride motorcycles together. "We wanted a way to create and share routes," said Cullen. "Eventually, Zack got a bike and convinced me to start riding too." Now they are both hooked on bicycling and they've continue to refine their tool.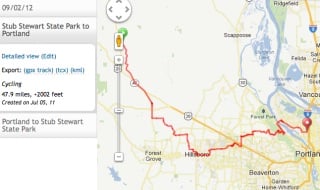 Screenshot
They incorporated the business in 2009 and now Ride With GPS boasts an impressive 120,000 users. And it's growing quickly. Cullen says they add about 300 new users per day. Completely self-funded (or "boot-strapped" as it's known in the entrepreneurial world, to differentiate between venture capital-backed endeavors), Ride With GPS relies on monthly user fees (they have both free and paid plans) to pay the bills and grow the product. Cullen and Zack both work for the company full-time and they now have two other employees.
I don't ride with a Garmin or any other GPS unit yet; but I know that a lot of people do. I've got an account with Ride With GPS and have found it a super-easy way to create and share routes. I used it for a recent ride out to Stub Stewart State Park and I also imported a ride (created by a friend) into my account. It's a solid tool and yet another successful bike-related business that calls Portland (and Eugene) home.
Check it out at RideWithGPS.com.