Posted by Jonathan Maus (Publisher/Editor) on August 29th, 2012 at 10:29 am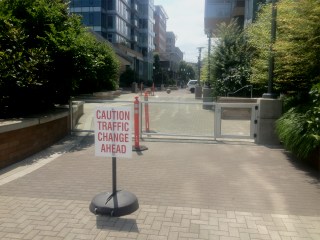 New gate up at The Strand to prevent
people from "racing through" on bikes.
(Photo: Gretchin Lair)
Owners at The Strand, a multi-tower condominium complex just south of the Riverplace marina, have erected a gate to prevent people from bicycling through their courtyard. The Strand's courtyard makes for convenient and safe access from SW Montgomery Street to Moody Ave, which is the main road to access the South Waterfront area. The cut-through had become popular for people bicycling to and from South Waterfront because it's direct and separate from motor vehicle traffic on SW River Drive.
Back in February, resident of The Strand, Barbara Brady, made a public appeal for people to avoid riding through this private courtyard. Brady made it clear that The Strand Board of Directors wasn't keen on people "racing through" their common area on bikes. Knowing that the Board would move to prohibit bike access, Brady hoped increased public awareness might solve the problem.
But it wasn't enough.
A few weeks ago, reader Gretchin Lair sent the photo above and said, "It's a pity, because this led directly onto the Moody cycle track from riverfront and offered the only way to cross the Moody/Harrison streetcar tracks at a right angle. I wish there was a public easement, or that the riverfront path connected to the [Aerial] Tram."
Diagram shows The Strand towers in red, the cut-through route in yellow, and suggested alternative routes in green.
(Graphic by BikePortland)
To clarify, The Strand's courtyard area is private property, so the city and county cannot enforce any public easement through it.
I followed up with Brady this week and she said residents continued to feel "threatened by those zooming through."
"When verbally asked not to ride through, most cyclists who were still doing it ignored the request, and, unfortunately, some had rude responses."
— Barbara Brady, The Strand resident
"Some cyclists changed their course, I think, but of course the ones who don't always become the voice," Brady shared, "Signs saying 'Private Property,' and 'Please Walk Bicycles' had little effect. When verbally asked not to ride through, most cyclists who were still doing it ignored the request, and, unfortunately, some had rude responses."
So the gate is up, and now folks don't have the choice to cut-through The Strand — or if they do, at least the gate slows them way down. (Two good options remain: SW River Drive to the west and the riverfront bike path to the east.)
Brady, who's supportive of bicycling, said she hoped the BikePortland post in February would solve the problem. "But you know the routine," she shared via email, "as with so many incidences, those who create problems have the loudest voice."