Posted by Jonathan Maus (Publisher/Editor) on August 15th, 2012 at 11:11 am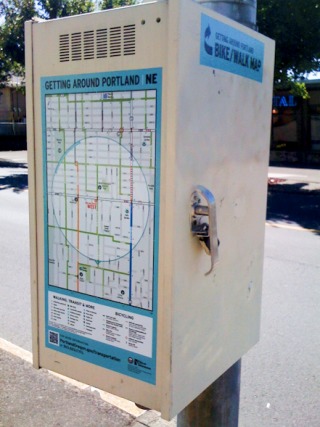 New map posted on a signal box at
NE 42nd and Alberta.
(Photo: PBOT)
The Portland Bureau of Transportation does an amazing job making biking and walking maps available. One of my first impressions upon moving here in 2004 was when I ordered some bike maps from them and a few days later say a smiling staffer delivered them to my door (by bike of course!). All told, they hand out about 100,000 of them a year. At Bridge Pedal alone, they passed out 4,000 of their pocket-sized bike maps.
Now they've taken their quest to encourage more biking through better knowledge of where the good routes are, to the next level. Yesterday PBOT posted 13 x 27-inch maps on traffic signal boxes at three locations around the city. The locations — SE Clinton and Cesar Chavez, NE Alberta Ct and 42nd, and NE Morris and MLK Jr. Blvd — are all neighborhood greenway streets where PBOT says, "active transportation is the priority."
PBOT says this is a pilot project to see how the maps are received and whether it makes sense to put more of them. The maps are specific to the locations they're posted in. Here's more from PBOT:
"Big maps will give both locals and visitors on-the-spot information about the transportation network around them. Each map shows an area of approximately one mile by one and a half miles. The maps also direct people looking for more active transportation resources to www.portlandoregon.gov/transportation."
I've always said it shouldn't take any special knowledge or maps to get around in a truly bike-friendly city; but making it easy to find the best bike routes by putting the maps right on the street seems like a pretty cool idea.
Have you seen these yet? What do you think?
Jonathan Maus is BikePortland's editor, publisher and founder. Contact him at @jonathan_maus on Twitter, via email at maus.jonathan@gmail.com, or phone/text at 503-706-8804. Also, if you read and appreciate this site, Jonathan hopes you'll become a supporter.