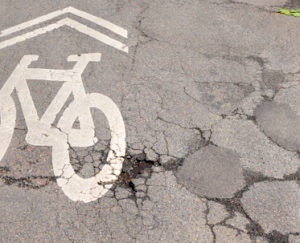 A local pavement company will smooth
out potholes for free, as long as you pay it forward.
(Photo © J. Maus/BikePortland)
If you ride on Portland's vaunted network of "neighborhood greenways" you have likely experienced one of their less glamorous sides: potholes. A combination of severe weather, city policy that prioritizes paving of large arterials before neighborhood streets, and a general tightening of transportation budgets over the years has led to many roads become littered with nasty potholes. (Two that I frequent, NE Holman and N Michigan, are especially bad.)
If you're tired of waiting for potholes to get fixed, Tigard-based business Coast Pavement Services has a nifty way make it happen. They got in touch with me recently to share "Potholes for Poverty," an initiative they launched to fill potholes and do some good in the community at the same time.

Coast will donate all the labor, equipment, and materials to fix the pothole of your choice under one condition: You must agree to donate money or 10 hours of service to a local non-profit. They've even got an online form where you can upload a photo of your pothole and make your volunteer pledge. Below is a screenshot of their site showing a few recent submissions:
In the past, I've reported on the City of Portland's efforts to find and patch potholes (they also have a pothole hotline at 823-BUMP), as well as citizen activists who have (literally) drawn attention to the issue. Remember the pothole ride back in 2008 which led to PBOT smoothing several of the nasty hazards?
I know many of you ride over potholes every day. Is it worth 10 hours of volunteer time to have it filled? If so, head over to PotholesforPoverty.org and let them know.