Photo of this morning's collision
at Broadway/Flint.
(Photo: Gerik Kransky)
A man riding her bike down N. Broadway and came in contact with a truck at the intersection of N. Flint this morning. The collision occurred at about 9:15 am.
According to a source who spoke to the responding police officer, the man on the bike was coming down Broadway, "too fast" and then "flipped her bike and struck the truck." (It's not clear what speed constitutes "too fast".)
The man was transported to the hospital via ambulance but does not have any serious injuries.

A photo sent to me by Gerik Kransky (who was just leaving a meeting at the Leftbank Building across the street) shows the ambulance and the police assembled at N. Flint.
It's not clear exactly why the collision occurred, however there are some typical behaviors at this notoriously dangerous intersection that might have played a role. Some people ride downhill on Broadway at a higher than average speed, which makes it hard for some people in cars to judge distances. Higher bike speeds also slow reaction times and make it harder to stop to avoid hazards. Right hooks are also common all along Broadway and the car might have been trying to turn right to go north on Flint.
I'll update this story when I hear more details from the police.
—
Less than one month ago, I posted about a collision at Broadway/Wheeler (just a few yards from where this morning's collision happened) and said it's time for action at this terribly designed intersection.
On June 26th, I joined an ad hoc group of advocates, citizen activists, and staff from the Portland Water Bureau, ODOT, and PBOT. The meeting was called by Betsy Reese, co-owner of the Paramount Apartments which sit on the peninsula formed by Wheeler/Flint/Broadway. Reese is frustrated with the lack of progress in making the intersections safer. At that meeting it became clear that improvements promised by PBOT/ODOT as part of the N/NE Quadrant I-5 widening project will not come soon enough. There's a feeling among activists that some immediate fixes must come about.
This morning's collision adds even greater urgency. (And please keep in mind that it's not always about who's at fault. The more important thing is that this is a dangerous intersection that needs attention. The more focus we put on fault, the less focus we have left for solutions.)
Also this morning, I heard some good news about progress. An ODOT rep at that ad-hoc meeting last month has said the agency will break off one component of the I-5 widening project — the closure of the slip-ramp that splits off the main Vancouver off-ramp just east of Flint — and get started on it next month. ODOT will begin the planning process to close the off-ramp this August and is expected to have the ramp closed by next summer.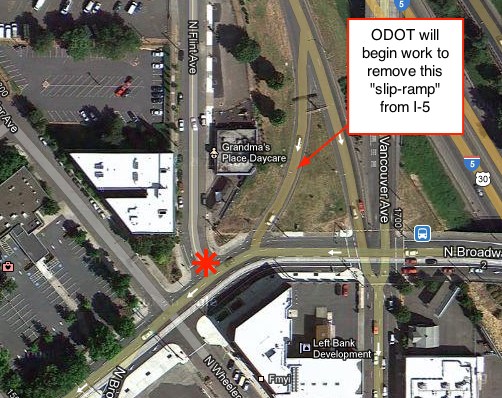 That off-ramp makes the Wheeler/Flint/Broadway area much more dangerous because people leave the freeway at irregular intervals, which makes traffic flow unpredictable.
That action by ODOT is welcome news, but its only one piece of this puzzle. PBOT has the responsibility to do their part. They should immediately address this situation by beginning the engineering work on a new traffic signal on Broadway at Flint. How many more people have to be injured? Are we willing to keep rolling the dice or are we going to put our bikeway quality and transportation safety rhetoric into action and stand up to this problem like we should?
The ball is in your court Mayor Adams.
— Learn more about this issue at the Broadway Flint Wheeler story tag.