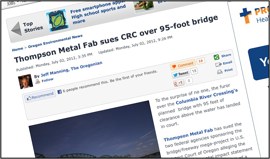 The already controversial $3.6 billion Columbia River Crossing mega-project was slapped with two new lawsuits yesterday; one from environmental advocacy groups and the other from a 200-employee business.
A trio of regional non-profits — the Coalition for a Livable Future, Northeast Coalition of Neighborhoods, and Northwest Environmental Defense Center — filed a federal lawsuit under the National Environmental Policy Act (NEPA). According to a statement from the groups, CRC planners have, "Not followed the environmental laws designed to ensure that development is safe for people and the environment," and that, "the most expensive public works project in the region's history has failed to consider even a basic analysis of key environmental issues."

Here's more from their statement:
Issues in the case include the CRC's failure to include a reasonable range of alternatives, instead creating a false choice between two extremes. The litigation also discusses the highway department's failure to properly analyze air pollution, disclose the health impacts, and disclose the impact of additional traffic lanes on air and water resources, ecosystems and greenhouse gas emissions. They also repeatedly designed a public process that failed to include real public input.
The other legal challenge against the project announced yesterday comes from Thompson Metal Fab, a company based in Vancouver that makes equipment for barges. According to a story in The Oregonian, the company claims their business will be negatively impacted because CRC project planners didn't make the bridge tall enough (despite learning of height concerns earlier in the design process).
These lawsuits comes as CRC project staff continue to receive permits move the project forward as if all systems are go despite the fact that they have yet to secure any significant funding. Nearly $150 million has already been spent by the Oregon and Washington DOTs just to plan this project. Last month, during testimony in Salem, Washington DOT staff let slip that the project wouldn't be underway until the "end of 2014" — one year later than previously thought.
One source tells me that at a current burn rate of $2-3 million per month, that delay could add $24-36 million to the overall project cost.
With last week's passage of the transportation bill, CRC project staff are hoping to grab a big chunk of federal money through the Projects of Regional and National Significance program. Congress has put $500 million into that account — which is equal the total amount CRC planners are looking for from the federal government. Unfortunately for them, Congress's appetite for mega-projects (especially controversial ones that make voters angry) seems to be waning.
In a recent Willamette Week interview, Congressman Peter DeFazio (D-Eugene) warned that the project was too big and said, "We cautioned them there isn't going to be anywhere near that kind of money." And back in December, US DOT Assistant Secretary Polly Trottenberg told me during a visit to Portland that, for "big and grand projects [like the CRC].. the scale of funding that's available at the state and national level is just not what it used to be."
Contact Jonathan at @jonathan_maus on Twitter, via email at maus.jonathan@gmail.com, or phone/text at 503-706-8804. Also, if you read and appreciate this site, please become a supporter.