Not your typical gas station.
(Photos © J. Maus/BikePortland)
I recently returned from a quick trip to Fullerton, California to help my brother celebrate his 40th birthday. Given that I'm from Portland, a place known for being, you know, all sustainable and stuff, my brother wanted to show me this cool new gas station that had just opened up near his house.
When my brother's new Lexus CT Hybrid was nearly empty, we pulled into Propel. I could instantly tell it was a different kind of gas station. Not only do they have warm and fuzzy marketing banners that say things like, "I choose a healthier future for kids"; pumps that dispense all sorts of fuel concoctions like E85 ethanol and biodiesel; and the ability to offset your carbon footprint right at the pump as you fill up; they also have a sweet little spot for bikes…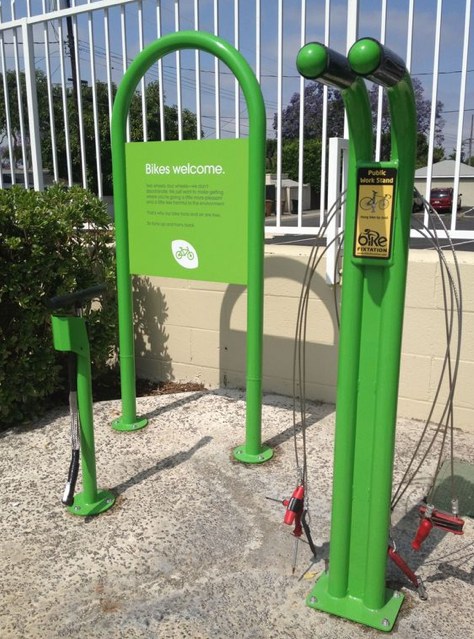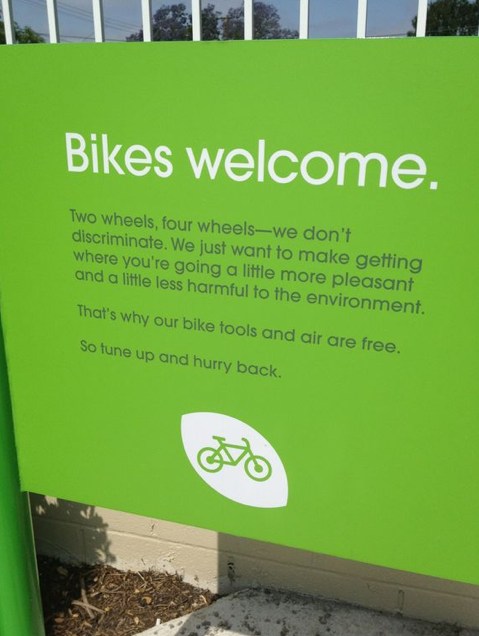 There's an interesting thing going on in the auto world. While some people simply don't care about the consequences of car over-use, others are feeling more and more guilty about it. Not everyone can afford (or even wants) a full electric hybrid and of course in most U.S. cities and suburbs, bikes are not considered a viable option. Propel is a business that plays to that second crowd. It exists in part to soften the tricky mix of feelings that comes with daily fuel consumption.
Fill up, then offset.
The fact that they've given some real attention to bicycles (and yes, the tools and pump are free) and they are doing things a bit differently, shows that at least their heads are in a better place than other stations.
There are five Propel stations in the Seattle area, but so far, none in Portland.