Please note: I've posted an updated version of this animation that is much more detailed.
Portland's paltry network of bike-specific
infrastructure, circa 1980. See how it has evolved below.
Portland's bike network was not built overnight. Most of our bike-specific infrastructure was built in the mid to late 1990s, but it really started in the early '80s. About seven years ago (before many of you even knew about BikePortland), I stitched together an animation showing how Portland's bike network has evolved.
Yesterday, something on Twitter sparked my memory of the animation, so I shared it again. Given how it has spread overnight, I figured many folks might be interested in seeing it again (or for the first time). The animation shows the spread of bike-specific infrastructure in Portland from 1980 through 2005 (and then into the future) in five year increments. Check it out: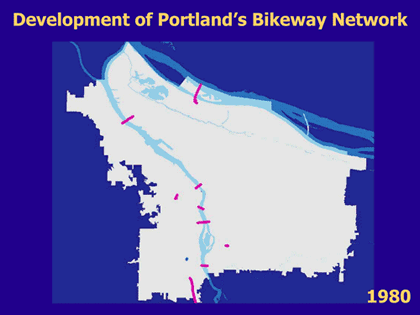 This really puts what has happened here into perspective don't you think?
And by the way, the graphics are taken from a presentation given by City of Portland Bicycle Coordinator Roger Geller. Thanks Roger!
Contact Jonathan at @jonathan_maus on Twitter, via email at maus.jonathan@gmail.com, or phone/text at 503-706-8804. Also, if you read and appreciate this site, please become a supporter.