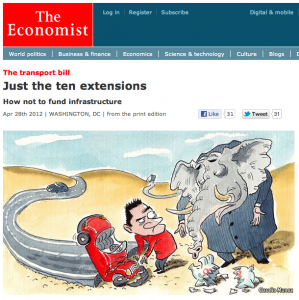 Authorities on the economy know why
transportation bills are in trouble: money.
Here's the news and other cool stuff that caught our eyes this past week…
– Tragically, in Vancouver this weekend an 11-year-old boy was struck and killed by the operator of a C-Tran bus just a short distance from his home. (Editor's note: We will have more coverage of this collision on the Front Page later today. – JM)
– Consequences for people killing others with their cars have changed drastically over the decades and The Atlantic Cities discusses how the dilution of consequences has been a result of a hard push by the automobile industry.
– The Oregonian's Joseph Rose suggests it may be time to treat "texting while driving the same way [the law] handles a DUII conviction."
– Reactions in California are mixed after a bill was introduced that would ban "panda portaits" and other mobile phone use while riding a bicycle.
– The economic authorities at The Economist get to the heart of the transportation funding issue in the United States: a gas tax that "is not indexed to inflation and has not increased since 1993."
– A few people are confused by a new buffered bike lane through Golden Gate Park but many people find the new separated configuration better both for people biking and for people driving or parking in the park.
– More from the Bay Area: A guy with a camera mounted on his bike was hit by someone driving a car in Berkeley and the whole thing was caught on film. The car operator hit two men and then fled the scene, and thanks in part to the video footage, the police have caught and arrested the suspect.
– The Onion has their own take on "bicycle-safety tips" including increasing your visibility by riding "with a lit highway flare in each hand."
– Another satirical news story, again from The Onion, calls horrendous and disturbing collisions at a dangerous intersection in California "pretty cool" and the intersection itself "the single sweetest place to watch a traffic accident."
– A man with extensive experience riding a bicycle died last week after colliding with a bollard designed to prevent people from illegally driving their motor vehicles on the trail where he was riding. (Editor's note: We'll have a guest article from Rob Sadowsky of the BTA on the topic of bollards later this week. — JM)
– One reason there are fewer women riding bikes than men in America might be because they are underrepresented in city advisory committees.
– A proposed law in Kentucky, described as a "heavy-handed law that limits right to free assembly" would require permits and fees for any organized ride with more than 50 people and "commercial" rides of any size.
– Tech blog Gizmodo is catching on to the cargo bike craze and explains exactly "why you should be on a cargo bike."
– And if you think cargo bikes are too heavy, or your local weather is too hot, you should read about the experience of Shawn McCarty, a Florida resident who found an electric Yuba Mundo to be the perfect fit in his car-lite life.
– Lars Larson's "bicycle story of the day" discusses why "normal people act like idiots when they get on a bicycle" but somehow forgets to mention the traffic violations of people who drive cars.
– If you know someone who incessantly hollers "Drill, baby, drill!" you could try pointing them to this article that breaks down the myths perpetuated by the American Petroleum Institute.
– NPR shared a slideshow of bicycle portraits from South Africa, a place they point out is free of the "hipsterization of bike culture."
– Think Portland has cool bike racks? Check out this bike rack shaped like a giant microphone installed in Nashville.
– In Chicago, new bike racks have been installed near transit stops including a set of double-decker racks similar to ones installed by TriMet at their Bike and Ride facilities. Unlike TriMet's double-decker bike racks, the ones installed by CDOT are free to use without a subscription.
– A high school student from Danville, CA talks about why she rides a bike and the social challenges she and others face in a car-centric culture.
– Portland residents Russ Rocca and Laura Crawford of The Path Less Pedaled took a trip to Seattle to experience the city's BikeCraft-inspired Pedaler's Fair.
– The "UK's top city bus operator", Lothian Busses, has released an educational video to help road users, "especially cyclists", learn how to keep their distance from large vehicles.
– And finally… Remember football and baseball star Bo Jackson? Well now he's a biking star and his "Bo Bikes Bama" ride, a fundraiser for tornado victims, finished up this weekend in Tuscaloosa.
---
— Did you find something interesting that should be in next week's Monday Roundup? Drop us a line. For more great links from around the web, follow us on Twitter @BikePortland.