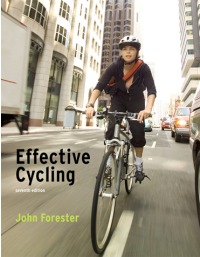 New cover of Effective Cycling
(MIT Press)
A book by the man who coined the termed "vehicular cycling" is set to be re-published by MIT Press on May 18th (which is Bike to Work Day). In 1993, John Forester's Effective Cycling aimed to explain his perspective on how people should operate bicycles. That book, and Forester himself, had a profound impact on cycling in the 1990s and the new edition of the book will hit shelves as cities across America clamor to install the type of separated, protected bike infrastructure Forester abhors.
On his personal website, Forester urges visitors to, "Fight for Your Right to Cycle Properly!" telling them, "The right of cyclists to cycle properly and safely is disappearing. If you don't fight to preserve it, it will disappear."
Portland author Jeff Mapes wrote about Forester in his excellent book Pedaling Revolution. After visiting Forester in his Lemon Grove, California home, Mapes wrote that Forester, "fought bike lanes, European-style cycletracks, and just about any form of traffic calming", and "saw nothing wrong with sprawl and an auto-dependent lifestyle." Others in the bike world have been far less kind in their characterizations of Forester.
Here's an excerpt about the new edition from the PR department at MIT Press (emphasis mine):
"… John Forester emphasizes that cyclists should consider themselves drivers of vehicles in traffic. That means obeying the rules of the road, because when all drivers obey the same rules, they don't have collisions. Forester explains why cyclists should not be afraid to cycle in traffic, and he urges them to resist being shunted off into government-sponsored bike paths as if they were incompetent children. Cyclists fare best, he says, when they act and are treated as drivers of vehicles."
As it seems the vast majority of today's bike planners and advocates are moving toward a vision completely different than the one Forester espouses, it'll be interesting to see how a new edition of this book is received. While "green lanes" and cycle tracks are the buzzwords these days in bike planning circles, I suppose Forester would like the widespread adoption of shared-lane markings (a.k.a. "sharrows").
Interestingly, MIT Press is also coming out with City Cycling, a new book by noted researcher John Pucher who argues via academic research and other writing for separated bike infrastructure. In fact, Pucher and Forester have had some interesting public debates about this issue in the past.
I've got a copy of Forester's new book in the mail. Perhaps I'll wait for the Pucher book and then do a dual review.