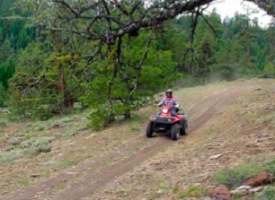 Rules that would have outlawed ATVs and other
motorized vehicles in nearly 4,000 miles of
eastern Oregon forest land have been
put on pause.
(Photo: US Forest Service)
A management plan released last month by the Wallowa-Whitman National Forest that would have prohibited motorized travel on nearly 4,000 miles of eastern Oregon backcountry roads, has been withdrawn.
In a statement released yesterday, Wallowa-Whitman National Forest Supervisor Monica Schwalbach said she has decided to "stop the clock" on the plan in order to, "be sure the various options for moving forward are considered in a constructive manner."
While many people the plan was a step in the right direction — including the director of Cycle Oregon Jerry Norquist who said it was a "good decision" due to the environmental damage being caused by motor vehicles — other forest users who ride ATVs, and drive cars and trucks on the roads have complained loudly.

Schwalbach addressed this outcry in her statement:
"As I have listened to the many people who are commenting on the plan, it has become apparent that there is a good bit of confusion, as well as some concerns that would benefit from more discussion… The forest needs to develop a travel management plan for public motorized recreation, but I want to be sure the various options for moving forward are considered in a constructive manner."
Pete Sandrock is a Portland resident and self-described "daily cyclist" who is also on the Board of Directors of the Hells Canyon Preservation Council. Schwalbach's statement made no mention of being contacted by politicians, but Sandrock says the USFS withdrew the plan "under pressure" from Oregon's congressional delegation. Opposition to the plan was led by U.S. House Representative Greg Walden, a Republican who represents Oregon's second district, in addition to Senate Democrats Ron Wyden and Jeff Merkley,
Rep. Walden says the Forest Service's plan is, "the product of a flawed public process that failed to protect the public's ability to enjoy their natural resources." "Time to scrap it and try again," Walden said in a phone call to the USFS he shared on his Facebook page, "with people in charge who will value the suggestions of eastern Oregon's citizens."
Sandrock disagrees with Walden and with the decision to withdraw the plan, saying that the USFS documented more than 3,000 public comments, many from local opponents to the plan and "ATV enthusiasts." "They also responded to each of the 290 issues raised by commenters in a detailed 90-page appendix to the Environmental Impact Statement," Sandrock said in a letter to The Oregonian. Here's more from Sandrock:
"The problem for the opponents is that they ignored the plain requirements of the 2005 Bush Administration directive that all national forests develop travel management plans the are environmentally sensitive and reduce road maintenance costs."
The USFS hasn't provided details or a timeline on where the plan will go from here. For more information, read Schwalbach's statement and check out local coverage in the Baker City Herald.