There's always been something a bit off about Portland's Off-Road Cycling Master Plan (ORCMP). Despite two years of work that went into it, and despite the plan being unveiled to the public in 2017, it was never an officially binding plan. For some odd reason, the City of Portland refused to finalized it and the word "draft" was never removed. It was supposed to go to City Council for adoption in 2019 and there was a concerted push from advocates to get it over the finish line at that time — but it just never happened.
I'm not sure if it was out of fear of controversy, or disagreements about various recommendations in the plan, or that it was never prioritized amid the constant shuffle of bureau leadership at City Hall. But what I do know is, because the plan was still in draft form, Portland was not able to move forward on any type of off-road cycling trail projects, plans or policies. If you know anything about how planning works in Portland, you know that nothing gets built or added to a project list or even considered for funding unless it can be tied back to an adopted plan.
So I'm very happy to report that today, finally, the Portland Parks & Recreation Bureau has finalized and published the Off Road Cycling Master Plan! Advocates from Northwest Trail Alliance, the group that has spent eight years on this effort, say it provides, "a blueprint for Portland's off-road cycling opportunities."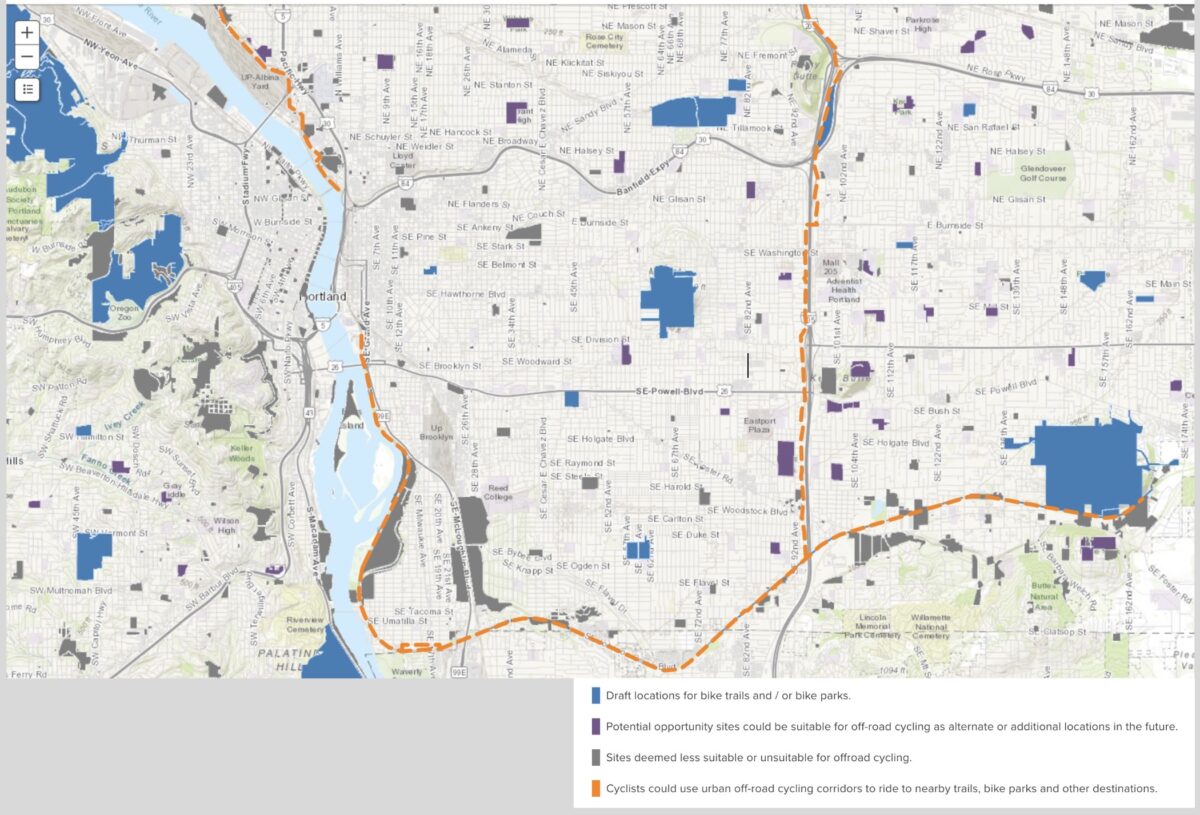 "The ORCMP is an exciting new and critical piece in a framework of guidance that planners and city officials rely on to implement new access to trails across the city," NWTA said in a statement this afternoon. "Further, off-road cycling will contribute to safe routes to school; help Portland reach its climate action plan; and all-around promote the healthy, outdoor lifestyle that Portlanders value."
NWTA Executive Director Lisa Olivares said, "While the ORCMP doesn't imply immediate, dedicated funding for any locations identified, NWTA looks forward to continuing our work with land partners to support growth in off-road cycling opportunities as presented in the plan."
To coincide with the (late afternoon on a Friday!) publication, Portland Parks has flipped the switch on a new webpage that lays out the basics of the plan and answers some key FAQ.
Parks lists eight locations where we could see "improvements to existing trails or new natural surface off-road cycling trails":
Powell Butte Natural Area
"Dog Bowl" at N. Willamette and N. Jessup
Mt. Tabor Park
Forest Park
Lesser Park
Loll-Wildwood Natural Area
River View Natural Area
Washington Park
There are 16 existing parks identified in the ORCMP as potential sites for bike parks (like Gateway Green) and there are three corridors where the plan recommends adjacent off-road cycling trails: the Springwater, the North Portland Greenway alignment, and the I-205 path.
While there is no dedicated funding attached to the plan, now that it's published, Parks can begin to add off-road bike trail projects to it's all-powerful Capital Improvement Program (CIP) list where they can be considered for funding during the annual budget process.
This might seem like a boring administrative step, but the finalization of this plan is big step forward and we're looking forward to what happens next. Stay tuned!