Cover
With all the rain we're having, I'm sure some of you are scheming how to make the most of the sun once it returns. On that note, I want to share an update on an exciting new bike touring guide book that is set for release on May 8th. Cycling Sojourner is the work of Portland travel writer Ellee Thalheimer and it's poised to usher in a wave of bike touring, just as rural communities throughout Oregon are beginning to recognize its economic potential.
Like we shared back in July, Thalheimer's book is one of four bike guide books coming out this year covering rides in Portland and throughout the state. While each one of them will help plan bike adventures, Cycling Sojourner is the only one that focuses on self-supported, multi-day rides.
Cycling Soujourner also stands out because of its detailed cue sheets. "Cue sheets are what can make or break a bike ride, and getting them exactly right is Ellee's specialty," says Elly Blue, who's handling publicity for the title, "Accurate cue sheets are a detail that you might not think about when you're flipping through a book in the store, but it shapes every second of your experience on the route."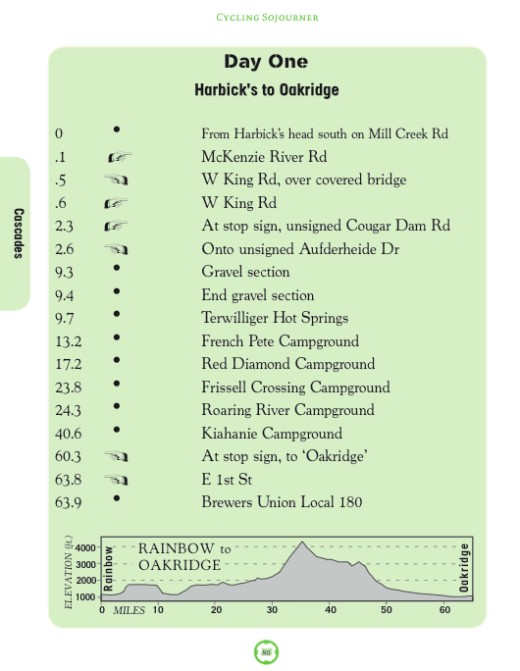 The routes in the book are diverse — taking readers from snow-capped mountains and National Parks to more urban areas where the scenery is more about great breweries and wineries (there's also great tips scattered throughout including "How not to get drunk" while wine tasting by bike). There are eight itineraries in all ranging from a three-day jaunt in the Willamette Valley to a more challenging week-long tour through Eastern Oregon. Here's a look at the Table of Contents…
Another reason I'm excited for this book is because it caters to the two types of bike travelers — those on a budget, and those seeking a more luxurious experience. I also love how it's chock-full of insider tips about where to camp, eat, and other "extracurricular activities." Oh, and did I mention Thalheimer's research and writing of the book were sponsored by Cycle Oregon and Travel Oregon?
Just like the right bike can help stoke an entire new market (think about the impact of Clever Cycles importing bakfiets back in 2007), a good book can do the same. With multi-day bike touring already popular in Oregon, Cycling Sojourner could help it reach a tipping point.
The book is available for pre-order via the CycleTouringOregon.com website or from Powell's or Amazon. And don't forget to mark your calendars for the big release party on May 8th at River City Bicycles (706 SE MLK Jr. Blvd).
Here are a few more peeks inside…
Nice work Ellee! Congratulations!
If you have questions or feedback about this site or my work, feel free to contact me at @jonathan_maus on Twitter, via email at maus.jonathan@gmail.com, or phone/text at 503-706-8804. Also, if you read and appreciate this site, please become a supporter.