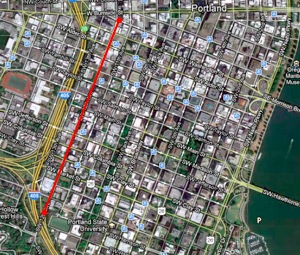 Red line shows location of potential cycle track.
The City of Portland Bureau of Transportation (PBOT) is in the early stages of a downtown cycle track project on SW 12th Avenue between I-405 and Burnside. I began hearing chatter about this project from sources several weeks ago and have now confirmed that PBOT pitched the project to the Portland Business Alliance at a meeting on Tuesday.
The idea is to redesign SW 12th so that it includes high-quality bike access. Currently the configuration is one-way northbound with three standard vehicle lanes and parking lanes on both sides. Here's how it looks today…
Plenty of room! Let's make it a great bike street shall we?!
PBOT says that — similar to SW Broadway, where they installed a cycle track back in August 2009 — SW 12th has more auto capacity than is needed. The street has also caught planners' eyes because it has no rail tracks and it connects to Portland State University and the existing buffered bike lane on SW Stark.
SW 12th is a bit off the beaten track and it's definitely not the most popular downtown bike route. PBOT says they've considered other streets, but various factors have made them less feasible at the moment: SW 10th has streetcar tracks; SW 6th has MAX tracks and is part of the transit mall; SW Park doesn't have signals; and SW 4th has "heavy traffic volumes."
PBOT spokesperson Dan Anderson said today via email that, a cycle track on SW 12th will give them the, "opportunity to consider lessons learned from the Broadway Cycle Track."
Currently, PBOT is in outreach mode. They're giving presentations and talking with property owners, churches and people who live on the street. Stay tuned for more on this project and weigh in below with your thoughts.