Roger Peet.
(Photos courtesy Roger Peet)
36-year old Concordia neighborhood resident and artist Roger Peet got a rough start to 2012. Just about two hours into the new year he was the victim of a hit-and-run in North Portland that ruined his bike, broke his collarbone, and left him with a mountain of medical bills from his hospital visit.
Peet's girlfriend Kathryn Doherty-Chapman, a 29-year old research student at Portland State University studying urban planning and transportation, got in touch with us to tell his story; in part because she just wanted others to know about it, but also because the alleged assailant is still on the loose.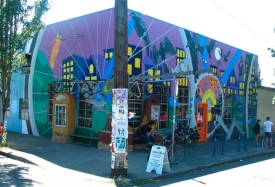 Peet painted the Citybikes mural this past summer.
According to Doherty-Chapman, she and Peet, along with another friend, were riding eastbound on N Rosa Parks Way that morning. After crossing Martin Luther King Jr., Blvd (map) the group was riding in the street (it's a small, residential street without a bike lane) when Peet was hit from behind by a minivan. Doherty-Chapman was behind Peet when it happened.
"There was no real incident prior to this, I recall them honking (for no apparent reason) just before the signal at MLK," Doherty-Chapman remembered in an email. She continued:
"Then I think our friend flipped them the bird and then bam, Roger is on the ground and the minivan is speeding away one block later… I believe the driver was drunk and was intending to scare us by buzzing us real close."
Doherty-Chapman said there was no other traffic and everyone in the group had lights on their bike and they were riding legally.
One of the riders gave chase, but the minivan sped away before they could make out its license plate. The only evidence they do have is that it was a light-colored, newer model mini-van.
The police responded and took a report (Doherty-Chapman said they were "courteous and professional") but the lack of evidence doesn't offer much hope they'll ever find the suspect.
Portland Police Bureau hit-and-run specialist Sergeant Todd Davis is aware of the case. He told me today that he hates having to suspend hit-and-run cases — especially when vulnerable road users are involved — but with "limited investigative resources" he doesn't plan to assign an officer for follow-up. "Should any new information become available regarding a suspect or suspect vehicle," says Sgt. Davis, "I will gladly re-open the investigation."
"We've been so inundated with hit and runs lately," he added, "that I've been working them on the side on top of my other duties."
While Doherty-Chapman and Peet (who's "healing up just fine" by the way) both assume the suspect and vehicle won't be found, "obviously we would be very relieved if they were."
In an interesting twist, many of you might be familiar with Mr. Peet's work — he recently finished up painting the new mural at Citybikes Annex on SE 8th. He had just gotten his bicycle back from getting tuned up by them less than a week before this incident.
We hope Roger get's back his bike very soon. If you can chip in a few bucks, there's a page set up that accepts donations.