Posted by Will Vanlue (Contributor) on November 28th, 2011 at 8:53 am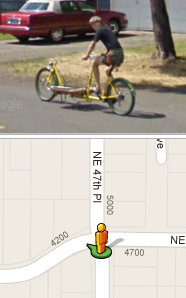 Here's the news that caught our eyes this past week…
– New York City has designated its first residential reduced speed zone, called a neighborhood slow zone, meant to reduce the number and impact of vehicle collisions. Oregon's 25 mph residential speed limit law goes into effect on January 1, 2012.
– After its first months in operation, Boston's bike share program has won over the city and many former critics. Tome Keane from the Boston Globe originally thought the program was one of those "off-the-wall, goofy larks you'd find in cities like Portland, Ore." but now says Boston's bike share "is one of [the mayor]'s best ideas ever."
– Reuters highlights a study which shows how the proliferation of car parking spaces may hamper the growth of a city.
– If cities highlighted in the study examined by Reuters want to convert car parking lots into bike parking, they should take a look at this award-winning design for a bike parking garage in Philadelphia. (We also hope the folks at PCC Cascade take a look at it.)
– After two years spent collecting hundreds of photographs of people and their bicycles in South Africa, Stan Engelbrecht and Nic Grobler are launching their Bicycle Portraits book on Kickstarter.
– Speaking of bicycle portraits, José Castrellón has captured photos of custom bikes, and their builders, in Panama. The makeshift customizations they've made to their bicycles evoke thoughts of Oakland's Scraper Bike phenomenon.
– Strong Towns Blog covers three problems we, as Americans, are having with designing efficient, cost-effective transportation networks. One suggestion they make to address the issue: "safely accommodate the long-neglected non-auto traffic."
– Watching this video of a dog following a rider through a bike park is going to make you want a ride mascot of your own.
– If you're concerned about mens' and women's health related to bicycling and bike saddles, the Centers for Disease Control has collected some good data. Speaking of health and riding, we can't wait for Elly Blue's latest zine.
– We loved seeing this AP story picked up in papers across the country: "Towns turn to 'road diets' to slow busy traffic."
– What's a zoetrope? Its a device used to make still images appear as if they're in motion. Katy Beveridge managed to build her own zoetropes using a video camera, bicycles, and paper cut-outs. It's quite a trip to see the spinning designs along her bike wheels.
– Monique van der Vorst started her professional racing career in handcycling, but after recovering from an accident and regaining the use of her legs she will ride with the Rabobank Women's Cycling team.
– If you haven't seen the ITO World map of casualties on U.S. roads yet, it's an interesting and sobering experience. As you're examining the map, remember: each dot on the map represents a lost life.
– More good news for bikes from car-choked Los Angeles, a new brightly colored green bike lane now stretches 1.5 miles through the heart of the city.
– Is Atlanta, GA the new Amsterdam? That's the question posed by one blogger in Atlanta, who highlights the ambitious projects underway in the city which are improving safety and comfort for people on bicycles.
– And finally, Google Street View has captured many interesting sights over the years and we can now add a cargo bike to that list. Jamie Nichols from Metrofiets was spotted riding his cargo bike near NE 47th and Alberta on Google Maps.
Did you find something interesting that should be in next week's Monday Roundup? Drop us a line.