Posted by Jonathan Maus (Publisher/Editor) on October 6th, 2011 at 10:13 am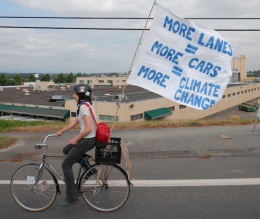 Bikes are a common sight
at Portland protests.
(Photo © J. Maus)
Occupy Portland (a.k.a. Occupy Together) the local version of Occupy Wall Street and a national movement to protest the imbalanced influence of corporations in American politics (and a host of other social justice issues) begins today. People will gather at noon near the Saturday Market in Waterfront Park and march through downtown at 2:30.
Many people actively involved with the local movement are also people that I have photographed and profiled here on BikePortland over the years. And, as Elly Blue writes in a column today in Grist, bikes are sure to play a highly visible role in today's event (I'll guarantee you'll see flag-flying tall bike riders).
Not only do bikes provide a practical way to move in a street march; but many people in this town who are activist-minded also happen to ride bikes (as evidenced by the large number of bikes at the only public anti-CRC rally and efforts to both support Mayor Sam Adams and to boot him out of office back in 2009).
One reader (and friend) wrote this via email to me this morning:
"I'm writing hoping to see coverage of the Occupy Together rally on Bike Portland. There will surely be a much higher percentage of people who use bicycles at the rally compared to the greater population. Part of Occupy Together includes making oil companies and the auto industry more accountable for the destruction that they cause, and to call them out for taking corporate welfare, paying lobbyists, etc…."
I'll definitely be there.
If you plan to show up, do yourself a favor and read this post on the Portland Mercury blog, An open letter to Occupy Portland from a public defender (but don't let it keep you from showing up).
I'm curious… How do you feel about the "Occupy" movement, and do you plan to be at today's event? How do you think bike-related issues and politics play a role? Or do they at all?