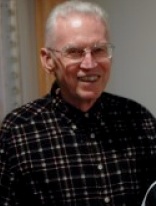 Clark Henry at the 2010 OBRA
Awards Banquet.
(Photo © J. Maus)
76-year old Clark Henry, a member of the Oregon Bicycle Racing Association and the oldest active racer in the state, was hit and seriously injured while bicycling in a bike lane in Beaverton this morning at around 8:00 am.
According to the Beaverton Police Department, Henry was riding westbound through the intersection of SW Allen and and SW Western (map) when a person driving a mini-van eastbound turned left in front of him. Henry suffered broken ribs and a collapsed lung and is still in the hospital in stable condition.
View looking east (from the mini-van driver's perspective. Henry's bike is in the upper left corner.
(Photo: Beaverton PD)
The mini-van operator said she could not see Henry because the sun was in her eyes. She was not given a citation at the scene but the BPD say that, "The issuance of any citations is pending the outcome of the investigation."
Henry's bike.
(Photo: Beaverton PD)
Henry is a veteran racer and is a member of the Beaverton Bicycle Club. Last year he earned the "Best All-Around Rider – Masters 70+ Category" award from OBRA. I met Clark at the banquet where he was given that award. He's been racing in Oregon since the 1960s. With ailing knees, Clark has trouble walking; but he told me, on a bike "I feel like I'm in my 30s."
Get well soon Clark. We're all pulling for you.
UPDATE, 9:50pm 8/22: This message about Clark's condition was just posted by his friend Darrell Provencher to the OBRA email list:
"Here's the latest update on Clark. Just got off the phone with his wife. Clark is currently in the ICU at OHSU. He has several broken ribs on his left side and they may be separated at the back. No surgery planned. He has 2 punctures in his left lung. He also has a bruised heart. Clark is taking O2 by mask, is fully conscious and eating food regularly. His first words to his wife when she got to the ER was "Where's my bike?" Another FYI, Clark had an emergency appendectomy the previous weekend and was back on his bike again this past Tues! On Saturday he was on his way to the Team Rose City ride at Liberty HS when he was hit at the intersection of SW Allen Blvd and Western Ave in Beaverton. He's been training hard since last year for Masters Road Nationals in Bend. Clark is 76 years young. What a bummer."