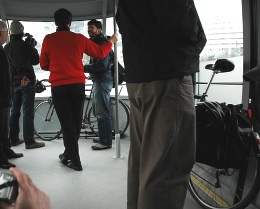 The Aerial Tram is likely to be
very crowded beginning Monday.
(Photo © J. Maus)
The Portland Bureau of Transportation will begin a major project on SW Sam Jackson Park Road this Monday that will result in its closure from July 11th to Labor Day (September 5th). Crews will attempt to shore up the soil beneath the road, and rebuild a portion of the road surface.
As the primary route for Oregon Health & Science University and Shriner's Hospital, this closure will have a big impact on Marquam Hill access. If you ride your bike to "pill hill," prepare for not just a detour, but new rules for bringing your bike on the Aerial Tram, which will likely get much more crowded starting Monday.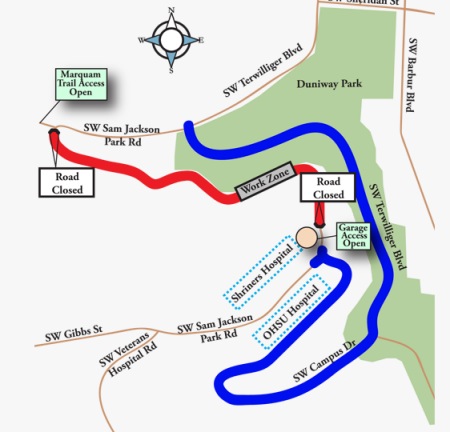 Detour map. Download full PDF
here
In response to this major road closure, OHSU is launching a bike valet service at the South Waterfront Aerial Tram station. Below is an excerpt from a statement by John Landolfe from OHSU's Transportation and Parking department:
"The closure is expected to divert thousands of commuters to the South Waterfront, where lines to the tram may be long. To accommodate as many people as efficiently as possible, limited bike space will be made available on the tram when it is operating at capacity. Simply put, if there's a line for the tram, you'll need to find another option for your bike."
If you don't want to access Marquam Hill via the South Waterfront, you can still bike up via SW Terwilliger Blvd (but expect a lot more traffic than usual) or load your bike on a bus.
However, if you are like the majority of Marquam Hill bike commuters and still want to use South Waterfront, OHSU's new bike valet at the lower tram terminal is the fastest option. Landolfe says the valet service will be open 6am to 6:30pm, Monday through Friday. Your bike will be parked securely inside a fenced off area under "continuous surveillance."
The existing bike cages and staple racks at the lower tram terminal are already nearly at capacity (even without this upcoming closure), so if you want to use them, get there early.
For more on this project, including detour maps, visit PBOT's website at SamJacksonRoad.com.