Posted by Jonathan Maus (Publisher/Editor) on June 14th, 2011 at 11:16 am
Franzia by bike.
(Photos: Michael O' Leary)
"The goal is to develop and refine our set of skills for on-road riding with external or internal box-wine loads. Three colors of box wine. Three stages. Might want to wear your helmet. Might want to bring cab fare money for your trip home." — That's how the first annual Tour de Franzia was billed on the Pedalpalooza calendar.
Below is a ride recap and photos by Michael O'Leary:
---
We were certainly fortunate with the weather and as a result enjoyed a large crowd for a first-time Pedalpalooza event… about 75 people showed up.
We started at Overlook Park and after a brief safety presentation, commenced the the first stage of our event, the time-trial.
The second stage took us to Madrona Park, where the slow-bike competition proved good sport.
The ride up to the third stage at Gammans Park was nothing less than jaw-droppingly beautiful, with the sun setting perfectly across the bluffs.
Self portrait
The third stage Crit proved very popular, as did the frisbee, see-saws and countless other modes of lolling about.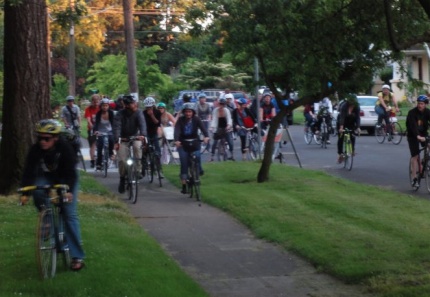 The post-Tour cool down was at Tom's Pizza on Lombard. We'd called ahead, and their staff was very welcoming and capable of taking care of such a large late arriving group.
Total distance: 3 miles. Total time: 2.5 hours. Total $ spent (estimated) included $150 in box wine and $150 spent at pizza and beer at Tom's Pizza. Total Wrecks: Only one hot-dogger showing off BMX skills on gravel who recovered just fine. Attendance: 75 (counted after reviewing video playback.) Longest time-trial pulls on the wine spigots: 3-way tie @ 20 seconds each. *shudder*
---
Thanks to Michael for documenting the ride and sharing it with us. Other ride leaders are free to do the same via our handy Pedalpalooza Ride Report Form.