PBOT data on SE Holgate Blvd. The street was re-striped for buffered bike lanes in 2009.

Looking to quell some of the neighborhood anger lingering around the buffered bike lanes installed on SE Holgate Blvd last year, the City of Portland Bureau of Transportation returned to the scene last night.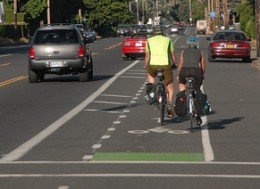 They seem to be working as planned.
Armed with data from two years of post-project evaluation and a slew of complementary projects in the pipeline for the area — PBOT seems to have seriously turned the tide on this one.
BikePortland was not at the meeting, but we've gotten reports via PBOT staff and emails from readers who live in East Portland that attended the event.
While the statistics show clear benefits (more on that below), it's also clear the project still has a few vocal detractors in the area (as our friends at KATU-TV were quite eager to focus on).
"Last night's meeting was the first meeting where there appeared to be more people who strongly supported the safety improvements than asking us to restore Holgate to its prior conditions."
— Greg Raisman, PBOT
At the meeting, PBOT apologized once again for their mishandling of the public outreach prior to re-striping the street. "Raisman started by apologizing for not doing better active outreach before initiating the project in the early stages," reported reader Stephen R, "hopefully derailing the partisan alienation a bit, but I don't think it mattered really."
The criticisms from last summer seem to remain from those staunchly opposed to the project. At the meeting, they questioned the data presented by PBOT, and one of the primary jabs (and the focus of the KATU piece) is that no one is using the new lanes.
Overall, Stephen felt like the meeting "represented some good news in the face of that Holladay project and other setbacks lately." His final impression? Of nearby residents, "70% were very happy, 25% probably didn't care, and 5% were noisy and cranky."
Reader Megan wrote in to say some in the crowd weren't just cranky, they were downright rude. "The vocal group last night was extremely disrespectful to anyone who didn't support their point of view," she comments below, "calling out names while people commented and talking loudly during the roll-out of data. They were there to bully and intimidate."
For their part, PBOT project managers Greg Raisman and Mark Lear both felt the meeting went very well. Lear told us the meeting was "amazing" and that there were "more supporters than people in opposition." The primary reason many now support the project are the safety benefits.
Via email this morning, Raisman told us that, "Last night's meeting was the first meeting where there appeared to be more people who strongly supported the safety improvements than asking us to restore Holgate to its prior conditions."
"It appears," Raisman feels, "that this change in sentiment has been driven by the documented overall safety improvements for all modes."
PBOT spent nearly two years evaluating this project after it went in (an unheard of amount for a relatively small project like this; but it goes to show how important this project was for PBOT). The findings are eye-opening:
a 24% reduction in speeding.
88 fewer people travelling over 50 MPH on Holgate each day.
almost 550 fewer people traveling more than 10 MPH over the speed limit.
prior to the project, PBOT counted approximately 7 injury crashes each year in the corridor. In the full year after the project, PBOT has seen 2 serious injury crashes in the corridor.
auto volumes on Holgate (a neighborhood street) have gone down, and SE Powell (and arterial) seems to have absorbed the traffic (volume up 6.6% or 1,190 vehicles between 2008-2011).
[Download a PDF of PBOT's presentation here.]
"This is an excellent result of improved safety on Holgate," says Raisman.
Even after seeing the data from PBOT, some still weren't convinced. "They did try to question the data gathering and statistical analysis," reported Stephen, "but the evidence was rock solid."
This map, presented at the meeting last night, shows how Holgate fits into the broader goals for safe mobility in the immediate area.
Beyond the buffered bike lanes, PBOT is giving the surrounding area a significant amount of attention and resources. At the meeting, Raisman detailed future plans for many new crossing improvements (at SE 97th and 100th) as well as sidewalk projects all along the corridor. They now call their effort the "Holgate Safety Project."
Were you at the meeting? Feel free to chime in with your take on how it went.
If you have questions or feedback about this site or my work, feel free to contact me at @jonathan_maus on Twitter, via email at maus.jonathan@gmail.com, or phone/text at 503-706-8804. Also, if you read and appreciate this site, please become a supporter.