The 'duo' from Audi, made by Portland-based Renovo Hardwood Bicycles.
–
Click to enlarge
–

BikePortland has learned that Portland-based bike manufacturer Renovo Hardwood Bicycles will manufacture a line of bicycles for Audi of America.
Since Ken Wheeler, the former CEO of a company that made composite airplanes, launched Renovo just three years ago, the company has raised many eyebrows. Today, Audi (based in Virginia) is expected to publicly announce a partnership with Renovo to manufacture three models of hardwood bikes under the "duo" brand name. Audi plans to unveil the bikes at a dealer event in Dallas in April.
Here's an excerpt from the Audi press release:
"… the duo – an Audi-inspired bicycle collection that embodies the best of both worlds: luxury and performance. An evolution of Audi's ongoing commitment to progressive ideas, the duo serves as both a work of art and a mode of transportation that blends beauty and craftsmanship with performance and technology…

Unlike other mainstream frame materials, and reflecting Audi's commitment to sustainability, the Audi duo is also recyclable and biodegradable. Audi is the first automaker to manufacturer to recognize the benefits of wood and offer a bicycle made from it…

Audi is also the first automaker to offer a bicycle, not as a design exercise or a rebadging of a commonplace bicycle. Instead, Audi is launching the duo as an embodiment of its core principles of progressive innovation that also blends craftsmanship and styling with performance and technology."
Details of the "duo Sport":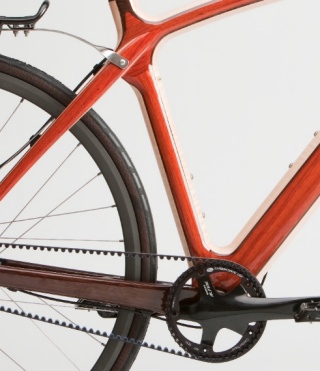 The duos will be made in three versions, City, Sport and Road and will feature high-end components. Prices range from $6,530 to $7,460 and each one is handmade in Renovo's shop in Southeast Portland. Here are the three model descriptions:
duo City – A cafe/leisure bike, urban explorer and all-weather commuter; the most approachable bike for casual cyclists. Features include an upright position for short distances, comfort and traffic vigilance; wide puncture-resistant 32mm tires; LED lights; fenders; rack The duo City drivetrain features the smooth, quiet and grease-free Gates CenterTrack belt drive coupled to the Shimano Nexus 8-speed internal hub gear hub, for effortless, and maintenance-free shifting. Price: $6,530*
duo Sport – A fitness, long-distance all-weather commuter, perfect for cyclists seeking long-distance comfort and safety. The Sport drivetrain features the smooth, quiet and grease-free Gates CenterTrack belt drive coupled to the Shimano Alfine 11-speed internal gear hub, for  effortless, and maintenance-free shifting. Other features include drop bars for long distances; minimum fenders; medium width and puncture-resistant 28mm tires for less rolling resistance. Price: $7,350*
duo Road – A performance road bike, good for club and century rides. Features include narrow tires; no fenders; minimal accessories; and SRAM Red, compact 20-speed gear train. Price: $7,460*
Screenshot of Audi's duo teaser site.
Audi has set up a teaser site which says the duo line will be officially launched on April 2nd. The bikes will be available for purchase through the Audi Collection website.
For more on Wheeler and Renovo, check out our story and photos following a shop visit back in February 2008.
Jonathan Maus is BikePortland's editor, publisher and founder. Contact him at @jonathan_maus on Twitter, via email at maus.jonathan@gmail.com, or phone/text at 503-706-8804. Also, if you read and appreciate this site, please become a supporter.