The panelists: L to R: Dr. Philip Wu,
Olivia Quiroz, Mychal Tetteh, Noelle Dobson.
(Photos: BikePortland/Patrick Croasdaile)
In recent years, the fields of public health, equity and transportation policy have become increasingly linked. At a breakout session at the Active Transportation Summit yesterday, advocates and experts came together to learn more about why these issues are linked and discuss how to make that link stronger.
According to Dr. Phil Wu, a pediatric obesity specialist at Kaiser Permanente, "There's no way to deal with obesity unless we start dealing with issues of transportation."
"We've found that barriers to cycling are culturally specific, and we in turn have had to tailor custom solutions to encourage these populations to bike."
— Mychal Tetteh, Community Cycling Center
Dr. Wu was one of four members of the panel. He joined Mychal Tetteh from the Community Cycling Center; Noelle Dobson of the Oregon Public Health Institute, and Olivia Quiroz with the Multnomah County Health Department. The panel was moderated by Mara Gross from the Coalition for a Livable Future.
Here's the problem as Dr. Wu sees it: Health disparities are based in demographics where physical inactivity greatly contributes to obesity, and in these same communities, a lack of traffic safety and poor transportation infrastructure reinforce barriers to walking and cycling (he was principally referring to low-income communities in urban environments).
Dr. Wu and a slide showing obesity rates by ethnicity.
"The majority of time our health care professionals spend treating any disease often has to do with obesity, every part of the body is touched when an individual is overweight."
Since transportation is a daily activity for most people, Dr. Wu believes we need strong policies that make it easier to connect activity to mobility and to overcome barriers to walking and biking that exist in some communities.
Olivia Quiroz, who heads the Communities by Design initiative for the Multnomah County Health Department, believes that without aggressive efforts to prevent chronic obesity, health care costs will continue to spiral upward. "We need to invest resources in communities that experience health inequities, and we need to tailor specific policies for these communities."
And what better way to do this than by developing policies for communities in need with their input and involvement guiding the process?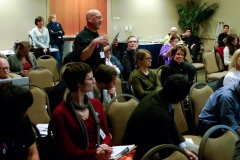 Judging by the crowd, awareness of
these issues is growing.
Enter panelist Mychal Tetteh of the Community Cycling Center. Tetteh described at length how the CCC brings transportation solutions directly to the communities they serve. Empowerment is key to the CCC's mission and Tetteh said their goal is to, "find those champions from within communities and give them the tools they need to affect change."
"There's no better way to encourage bicycling than in areas where the people are."
With budgets bleak in Oregon, the big question is how to put more funding resources into the grassroots work by organizations like the CCC. Put a different way, can health and equity issues help bump up the priority for active transportation funding? Or vice versa?
Public health advocate Noelle Dobson believes that given the relatively small amount of money active transportation advocates are fighting for, "We need to use health as a lens to rank one project above another."
All four of the panelists are confident that community engagement at a grassroots level coupled with the linking of transportation and health equity will result in significant policy change… eventually. Now the matter remains how impending budget cuts at the state (and federal) level will impact their efforts.
I'm tagging along with Tetteh and other CCC staffers to lobby legislators today in Salem. Stay tuned for a report on how/if their message resonates with lawmakers.